UNCOVER THE ART OF CONSERVATION STORYTELLING WITH OUR ZIMBABWE PHOTO TOUR
A week filled with unique wildlife encounters, wonderful conservation stories, and expert photographic tutoring.
Join us for an unforgettable wildlife photography workshop at a small community-focused conservancy in Zimbabwe. You'll stay at a comfortable lodge within the reserve grounds, surrounded by native trees and the soundtrack of the African animals that call this beautiful land home. Unlike your typical African photo safari, the location of this immersive and intimate wildlife photography workshop offers uniquely up-close-and-personal photographic opportunities. With tuition and guidance from professional photographer and zoologist Sam Turley, you'll have the chance to photograph rhinos, elephants, and cheetahs on foot, whilst remaining ethical and respectful of these incredible subjects. 
Close wildlife encounters
Enjoy breathtaking wildlife encounters
Walking safaris
Photograph rhinos, elephants, cheetahs, and more on foot
Develop your photography and conservation storytelling skills
Visit and photograph quaint villages that are scattered amongst Iceland's striking landscapes
Get personal tutoring from an experienced wildlife photographer
Photograph amazing waterfalls that belie the imagination at Skogafoss and Seljalandsfoss
Stay at a small, community-focused game reserve
Enjoy photographic tutoring by two professional photographers
Enjoy

 breathtaking wildlife encounters 
Photograph rhinos, elephants, cheetahs, and more on foot 
Develop your photography and 

conservation

 storytelling skills 
Get personal tutoring from an experienced wildlife photographer 
Stay at a small, community-focused game reserve 
For the duration of your wildlife photography workshop you will be based at Imire Rhino and Wildlife Conservancy in Zimbabwe: a small, family run conservancy, established in 1972 as a reserve committed to the conservation of Zimbabwe's diverse wildlife – particularly its endangered Black Rhinoceros populations. It has since evolved into one of the forefront pioneers of wildlife conservation in the country, having released 11 black rhinos back into the wild, to northern Zimbabwe's Zambezi Valley, since its commencement. 
For the duration of your stay, you'll be living on-site in one of seven beautiful, thatched brick buildings, nested in a green and tranquil haven within the conservancy. The accommodation is shared (two people to a room) and each room is tastefully and comfortably furnished with twin beds and an ensuite bathroom. All bedding, laundry and housekeeping is provided.
All of your meals are included, and you can expect three home-cooked meals a day with tea, coffee, and juice readily available. Alcoholic and soft drinks are purchasable from the bar at an additional cost. There is a communal dining area and an outdoor lounge with a firepit to relax around and stargaze after a successful day of photography and once-in-a-lifetime wildlife encounters.
Please inform us of any dietary requirements when booking as some allergies and intolerances will require some liaising. Vegetarian and vegan options are available on request.
Imire offers a rich and diverse range of photographic subjects including buffalo, zebra, giraffes, wildebeest, warthog, crocodile, and a variety of antelope species including sable, eland, kudu and nyala. There are also over 150 bird species! However, the stars of Imire remain its rhinos: the key focus of the conservancy's 50+ years in wildlife conservation. The rhinos live a wild existence within the reserve and yet are reasonably adjusted to the presence of people, presenting a special opportunity to photograph both black and white rhinos on foot at proximity. 
The conservancy is also home to three orphaned elephants who were intercepted from being sold into zoos following the mass elephant culling in Zimbabwe between 1965 and 1988. Due to their orphancy, they were hand-reared and deemed unfit for rewilding and have therefore found a permanent and peaceful refuge at Imire. Their upbringing also means that they are quite comfortable around humans, making them excellent models! As a workshop attendee, you will have the opportunity to witness these elephants up-close, hear their stories and capture their individual characters through your photographs. 


Additionally, in 2021, two eighth-generation captive bred cheetah brothers were welcomed to Imire: returned to their native continent from a zoo in Canada. The brothers now roam and hunt freely within the reserve. It is the conservancy's intention to soon introduce a female cheetah in the hopes that they can contribute to the repopulation of cheetahs in Zimbabwe, of which there are thought to be approximately only one hundred individuals remaining. Sam will also take you to find the brothers on foot – another special photographic opportunity. 
Sam tailors his photography teachings to your needs, and you will have the opportunity to discuss your personal goals with him prior to departure. Whatever stage you are at in your journey as a photographer, the core aim of this wildlife photography workshop is to build on your existing skills and add exciting new content to your portfolio. Sam will share his expertise through a series of short lessons on a variety of topics including creativity, composition, exposure, lighting, and editing, but most of your learning will take place in the field – putting theory into practice under Sam's guidance. Sam will also host daily review sessions, feeding back on the success of your photographs and giving you constructive advice to apply in the field the following day. 
Additionally, Sam will also walk you through the process of planning and executing a compelling photo story, highlighting the wildlife conservation efforts of Imire. You will then be supported in pitching your story to international news agencies – with the hopes of successful publication and valuable exposure of your photography portfolio. 
You've arrived in Zimbabwe! You'll be collected from Harare airport ready for a one-hour drive to Imire Lodge. Unpack, enjoy a home-cooked meal, and settle into your home amongst the Msasa trees – ready for a week of wildlife and workshops.
Each day of your wildlife photography workshop in Zimbabwe will involve a short classroom-style lecture on photographic techniques before heading out into the field to capture Imire's incredible inhabitants, learn about animal behaviour and develop your conservation-focused photo story under Sam's guidance.
It's time to say goodbye to Imire and drive back to Harare airport for your departure, with some exceptional memories, improved photographic skills and the pictures to prove it! 
QUICK FACTS
| | |
| --- | --- |
| | Zimbabwe |
| | Jun 26 – Jul 3, 2023 / 11 – 18 Sep, 2023 |
| | Wildlife Photography |
| | Leader: Sam Turley |
| | Group Size: Max. 6 |
| | All Photography Levels |
INCLUDES
Airport transfers to and from Imire
All accommodation
All meals
Photography tuition
Game Drives
Conservation fees
EXCLUDES
International flights
Visa costs (if applicable)
Travel Insurance
For this wildlife photography workshop, Sam recommends the following equipment:
Memory Cards (at least 2 high capacity/ 128GB)
Camera Charger
Spare Batteries (if you can, it is always worth having at least 2 spare batteries)
Lens recommendation: focal length of at least 200mm
Camera Bag
Camera Cleaning Kit
WORKSHOP LEADER: Sam Turley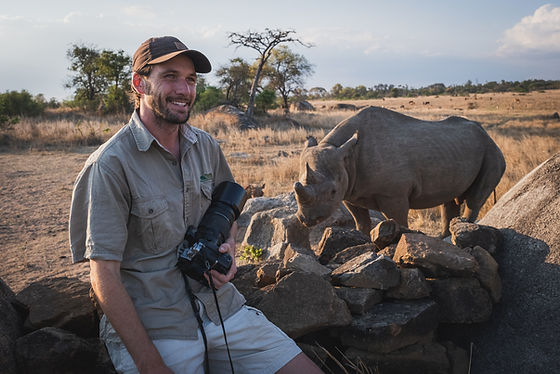 Sam is an award-winning wildlife photographer and conservationist. During his career in wildlife conservation in Southern Africa, Sam began to understand the power of conservation storytelling through photography, and has made it his mission to educate, inspire and motivate people to fight for a wild future. Sam has won the Wilderness Safaris People's Choice Award in 2020, and he was a finalist in various competitions, including Africa Geographic Photographer of the Year and Natural History Museum Photographer of the Year. 
Related Tours and Workshops