THE HIDDEN FACETS OF SOUTHERN TANZANIA OFFERS A GENUINE WILDLIFE EXPERIENCE
We're incredibly excited to be taking you to some photographic hidden gems during a photo safari in the southern part of Tanzania. We'll be traveling to places hardly anyone gets to see to photograph lions, leopards, elephants, and so much more. We'll stay in remote reserves and national parks, each with its own unique landscapes and photographic opportunities, and you'll be guided by expert local guides. What's more, you'll be staying in beautiful camps and lodges – surrounded by nature only – on this exclusive and all-inclusive Tanzania Photo Safari.
When most think of Tanzania, it's the Serengeti, the Ngongoro Crater, and the migration that come to mind first. We decided to do things differently; to take you somewhere a bit more exclusive. These national parks in the Southern part of the country offer the same incredible game viewing as the north, only without the crowds and the over-used safari routes. You'll get a personal experience of untouched wilderness, and see a side of Tanzania that very few people do.
Our Tanzania photo safari is, needless to say, entirely designed around getting you to the best spots for encountering and photographing wildlife. And to ensure you'll get the most out of the experience, wildlife photographer Alan Hewitt will be accompanying you, and offering tutoring throughout.
Highlights of this Tanzania photo safari: 
Encounter and photograph big cats, large herds of elephants, buffalos, wild dogs, and many more species of wildlife
Visit hidden gems in the untouched wilderness of Southern Tanzania
Travel in intimately sized groups with photography workshops tailored to your level of experience
Learn about the unique wildlife, geography, and history of the area from your expert guide
Grow and develop as a photographer whilst building an incredible portfolio of wildlife images
Situated in Southern Tanzania are some of the largest and most remote National Parks in all of Africa, along with most of the country's protected areas. So, prepare for a real experience of untouched African wilderness.
You'll visit Tanzania's largest and second largest national parks: Nyerere National Park, with its 500 species of birds and the Rufji River sprawling across it; and Ruaha, with its thousands of ancient baobab trees and the continent's largest population of lions. You'll also visit the Mikumi National Park, home to endemic species of primate, huge herds of buffalo and elephants, and healthy populations of leopards.
Due to their position on the globe, these parks host an extraordinary variety of wildlife and nature. At a convergence zone between Sub-Saharan Africa's Southern and Eastern wildlife areas, Southern Tanzania sees wildlife from both. Further, sitting between the northern and southern hemisphere, these parks see an incredible array of migratory birds and greatly varied topography.
ACCOMMODATION
This Tanzania photo safari has you staying in a series of Foxes Safari Camps: well-equipped, carbon-negative, luxury safari lodges and camps in stunning locations. Your first stay in Mikumi National Park is the Vuma Hills Tented Camp. Perched on a hillside, the camp overlooks the Mkata plain, so expect stunning views from the veranda. The camp has comfortable permanent safari tents raised on wooden platforms, all dotted around the camp's restaurant, bar and swimming pool. Whilst well-sheltered, tucked away in a shaded woodland, this camp is actually inside the park and regularly sees wildlife wandering through. 
Your next stay is at the Ruaha River Lodge. Perfectly situated alongside the Great Ruaha River, the lodge offers spectacular panoramas of the riverbanks and the wildlife that are drawn there from neighboring hills. Hippo and croc sightings are guaranteed here and there have been several sightings of lion and leopard kills from the lodge. Your final camp, the Rufji River Camp is positioned alongside the Rufji River with views of the sprawling waterways and their resident wildlife. It has 24 tents, each individually sited with their own verandas. 
We'll be staying at three locations that all offer a slightly different experience in terms of setting, activities, and game viewing opportunities. Ruaha National Park is one of the best reasons to come to Southern Tanzania. The park contains many species of antelope that can't be found further north. It has the largest Lion population of any national park in Africa, containing one-tenth of the world's lion population. You can expect great encounters with other predators too: striped and spotted hyenas, cheetahs, leopards, jackals, and wild dogs. The area is amazing for bird photography too, as it's home to over 500 bird species.
Nyerere National Park, a world heritage site, offers photographic opportunities of a slightly different nature. Bisected by the Rufji River, Nyerere is the only game area in Tanzania to offer boat cruises and walking safaris along the river. Expect to photograph crocodiles, hippos, pythons and monitor lizards. It also holds half Tanzania's population of elephants and the highest density of wild dogs of anywhere in Africa. Packs as large as 56 have been seen in the past, twice the average size.
Mikumi National Park, surrounded by mountains on all sides, has the world's largest population of eland and plenty of wildebeest, impala, and zebra. The park has plenty of predators too, with great chances of encountering all big cats. In addition, our lodge offers plenty of opportunities for spotting the nocturnal wildlife that roams around our rooms — like porcupines, civets, and genets. It's also not uncommon for the occasional elephant to roam through.
PHOTOGRAPHIC TUTORING
Throughout this photo safari, you will be guided by Alan Hewitt; seasoned wildlife and conservation photographer and official UK ambassador for FUJIFILM. With a wealth of experience and expertise for you to learn from, Alan is a fantastic person to have around on a photo safari. Not only will he be there coaching you on the practical side of things out on game drives, you'll also benefit from theory sessions between excursions.
What's more, due to the small group sizes on this tour, Alan can cater workshops to photographers of all levels of experience. So, whether you're semi-pro or just starting off, this Tanzania photo tour could be a great way to take your photography to the next level.
QUICK FACTS
| | |
| --- | --- |
| | Tanzania |
| | October 2 – 13, 2024 |
| | Wildlife Photography |
| | Photography guide: Alan Hewitt |
| | Group Size: Max. 6 |
| | All Photography Levels |
INCLUDES
Accommodation
All meals
All internal flights
All game drives and other activities
Airport transfers
Entrance fees
Photographic tutoring by Alan Hewitt
EXCLUDES
Flights to and from Dar Es Salaam
Personal travel insurance
For this Tanzania photo safari, we recommend the following equipment;
SLR or mirrorless camera
A range of lenses; ideally including a wide angle lens for landscapes to telephoto for wildlife
Tripod or bean bag
Sturdy camera bag
Laptop if you're keen to improve your post-production skills, and/or if you'd like to review your images with Alan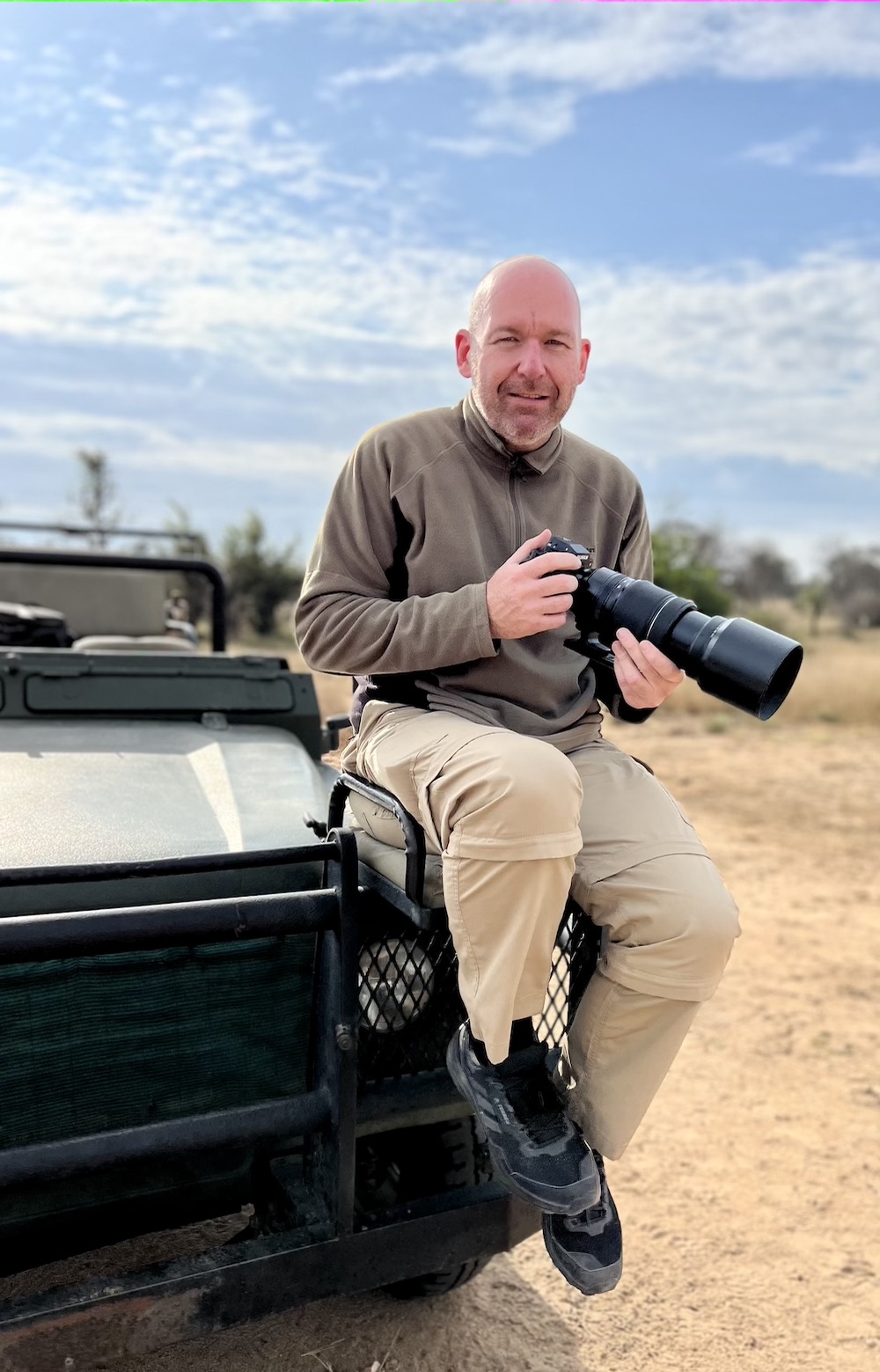 Alan Hewitt is a wildlife and conservation photographer, writer, and workshop leader. Mainly driven by his appreciation for and fascination of wildlife, Alan's aim with his photography is to document our natural world and use this as a tool for conservation. His work has been used to support wildlife conservation organizations in Kenya, as well as ones closer to his home in the UK, including campaigns to save nature reserves that are home to iconic and endangered species. Alan is an official UK ambassador for FUJIFILM.
Related Tours and Workshops