Feedback from recent nonprofit photography workshops in South Africa and Zambia
Photography workshops abroad can do different things for different people. It could transform a hobby into an employable skill. It could open the door to a new career. It could be your way of contributing to an important cause. It could be no more than an incredible way to travel. Of course, there's a long list of great things humanitarian photography does for nonprofit organizations and the communities they work with too. Their open-endedness is one of the most exciting things about our programs. But, it can make it tricky to know what you're getting in for when applying. Here, we have some feedback from two recent photographers, Liane Elbertsen and Tara "Sunny" Whipple, to help explain what to expect from your Nonprofit Photography Workshop with Penda.
– Text by Tom Rusbridge, images by Anna Lusty
An introduction to our nonprofit photography program
Our nonprofit photography program allows skilled photographers to develop and grow alongside seasoned professionals, then connects them with projects where their passion can make an impact. We run workshops throughout the year, for two to four weeks, in either Cape Town, South Africa, or Livingstone, Zambia.
This program is a great way for hobbyists to start taking their talent more seriously. It can be a chance to dip a toe in a new career path too. Also, thanks to its length, it makes a great photography summer program for photography students.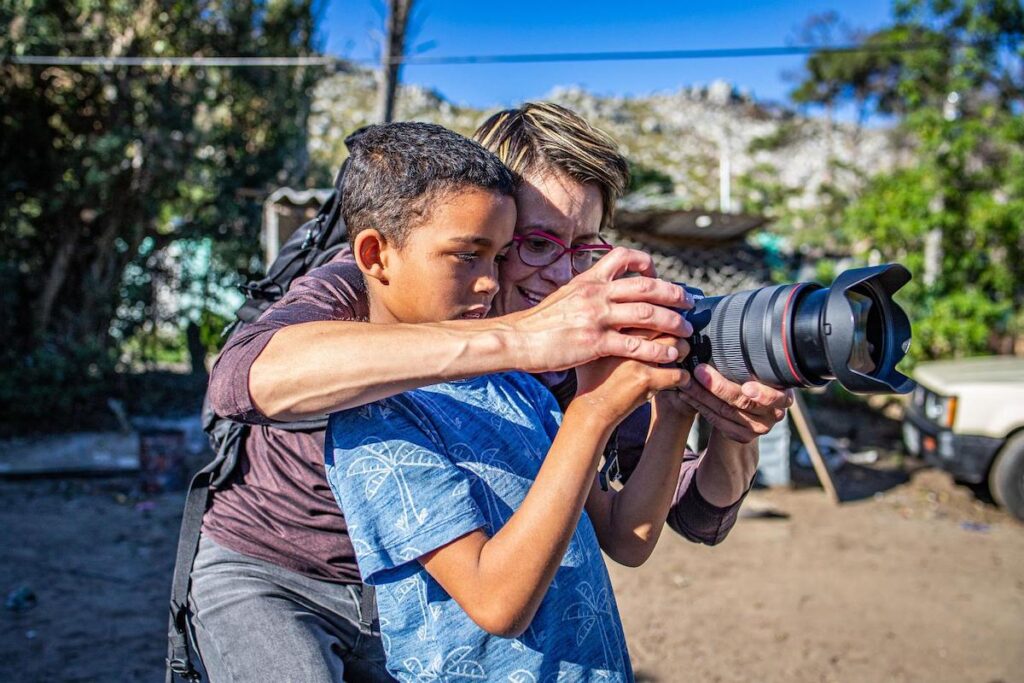 What you'll do
Week 1: You'll spend your first week learning from humanitarian photography pro, Anna Lusty. With over a decade of experience, Anna will coach you on more than the technicalities of photography. She'll teach you how to approach projects effectively and to handle stories sensitively.
Week 2-4: Each following week, you'll be paired with a nonprofit organization, given assignments to complete, and use your skills to help great causes. You'll get to know each organization, find your subjects, take your shots, then edit your pics and get them ready for use. At the end of each week you'll meet with Anna, discuss your work, review your progress, and prepare for your next assignment.
What you'll learn from a humanitarian photography workshop
Here are the main takeaways;
Practical photography and photo-editing skills
A unique portfolio of images
An understanding of the role visual images can play for social impact awareness
Guidance around the ethics of humanitarian photography
Hands-on experience working within the nonprofit sector
Unique insight into the culture and society of the destination you visit
Liane and our Nonprofit Photography Program in Cape Town, South Africa
"I love photography and becoming better at it, I love Africa, and I love to 'give back' and work with NGOs. Your program has it all!"
Liane Elbertsen, a student of Development Economics and International Development from Luxembourg, joined our Humanitarian Photography Workshop for two weeks in October. She described herself as a 'beginning intermediate photographer' when applying. So, we thought we'd catch up with her now that she'd completed her program to see how she'd progressed.
What motivated you to take on our nonprofit photography program?
"I took the humanitarian photography program because it has a combination of several things that are close to my heart: giving back, Africa and its people, improving my skills in photography and discovering new places (as I had not been to SA before – and doing this via this course allowed me to discover places I would never have visited as a normal tourist)."
What did you enjoy most?
"Anna is a great teacher and person! Very nice to be in her company during the program. Also, Candi and Sidney are great hosts, it was great staying at Yoga Shala, it really felt like a home."
What's something you gained from this humanitarian photography experience?
"The program was truly enriching. I learned about a lot of different aspects of nonprofit photography. Technical aspects, but also how to make a human connection before taking pictures, how to make people feel at ease, in order to get their character visible in the picture.
I learned about life in South Africa as well. By visiting different organizations, different areas of Cape Town, I learned a lot about how real life in Cape Town is."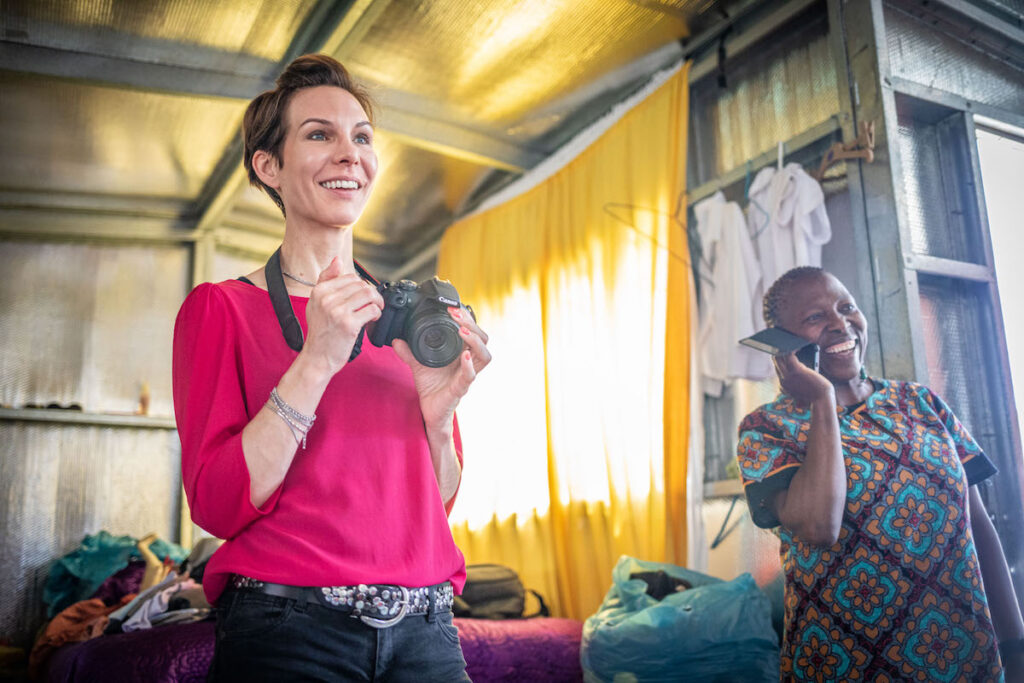 Can you share a story about any highlights from your nonprofit photography program? 
"What moved me most, were some adult men getting their food at a Soup Kitchen in a township. The Soup Kitchen was the first organization I visited with Anna and the objective was to make pictures of how the volunteers prepare the food, hand it out, and the people who come to get their food.
Among the people who came with their Tupperware to get some porridge and a few sandwiches, were some men. Perhaps only three or four. All others were women and children. Somehow it was far more touching (or striking) for me to see those men, in the strength of their lives, coming to get their daily portion of food, as opposed to the happy children playing with their Tupperware.
Another reason why the visit to the Soup Kitchen touched me, is because of all the organizations we visited, this one was really focusing on the bare minimum of human needs: food. The Soup Kitchens are a great initiative, it makes a real difference for people in the township."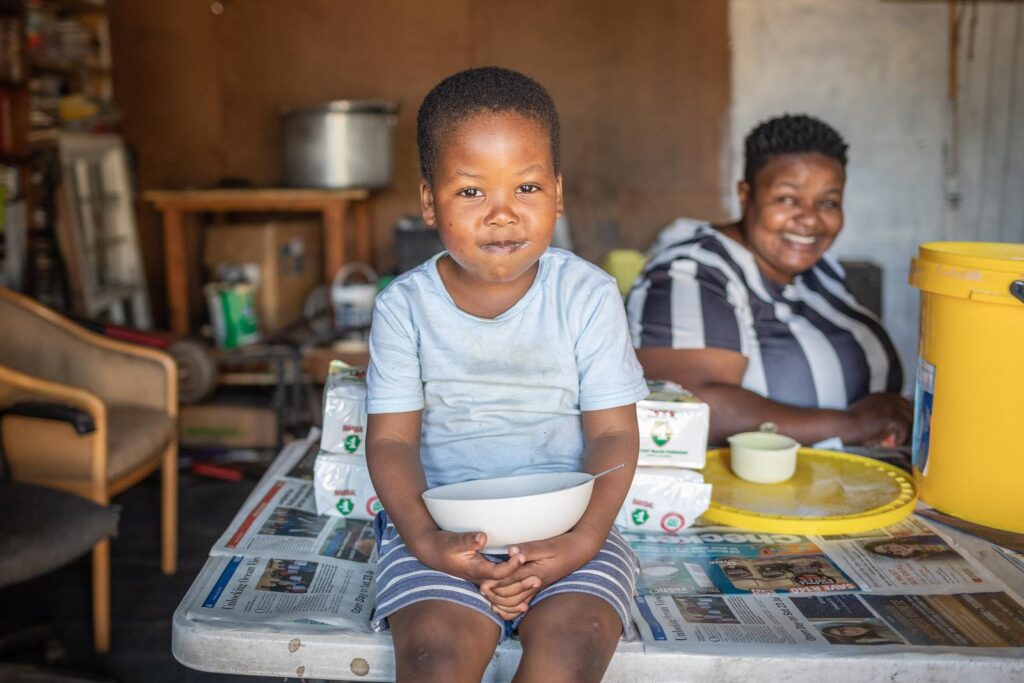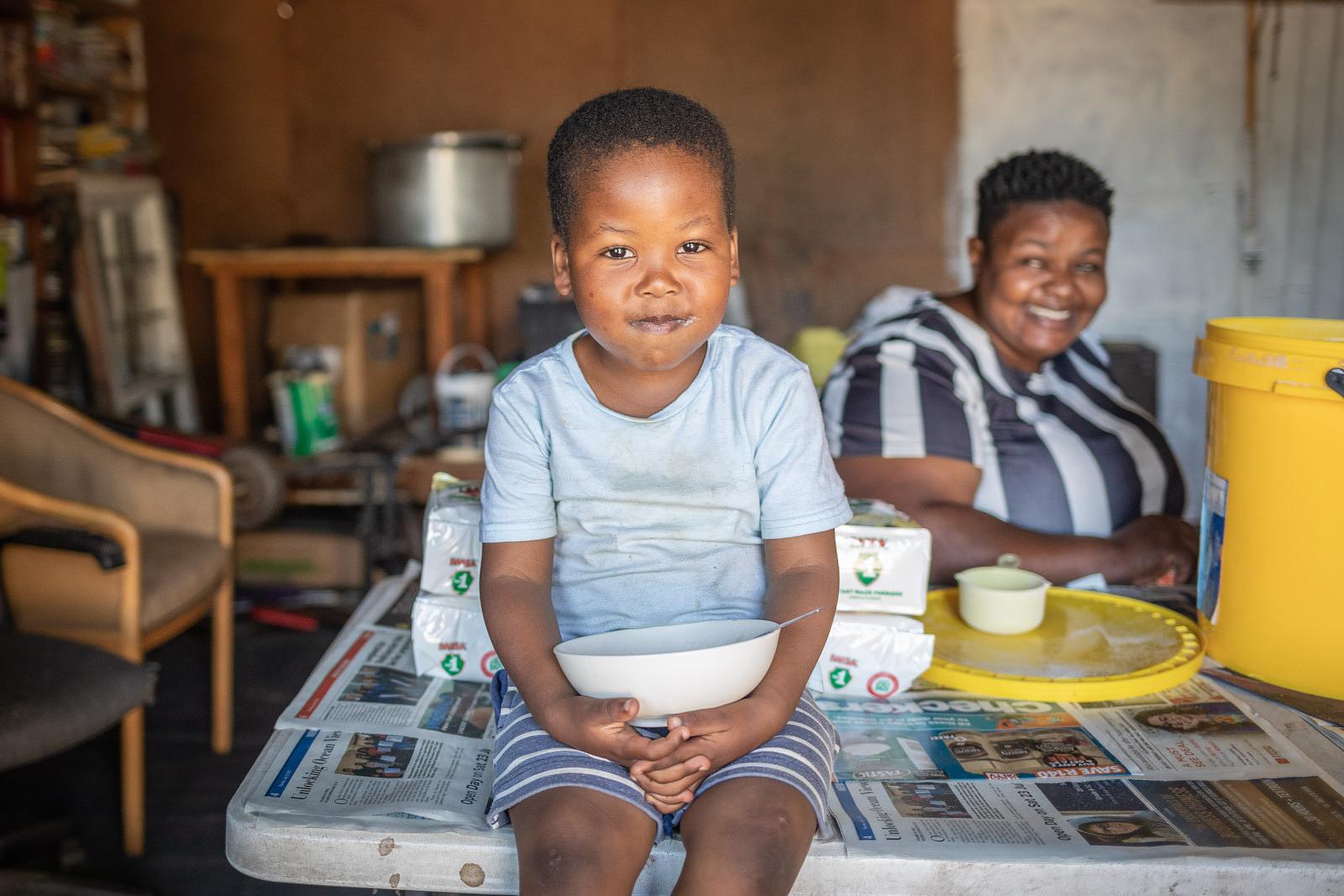 Do you feel this program will help you in the future? If so, how?
"I'm doing photography as a hobby, so the program will not help me in my professional career, but it definitely helped me advance as a photographer and made me 'richer' as a person.
I got to see the different sides of Cape Town and better understand the societal complexities of South Africa – and given that I'm studying Development Economics and International Development this will be of great help in progressing with and being successful in my studies."
Sunny and her Nonprofit Photography Program in Livingstone, Zambia
"This is an experience I'll remember and will be of use to me for the rest of my life. Definitely something that has planted the seed of a mighty oak tree in me."
Sunny was driven by a lifelong passion for photography and hopes of starting a career in photojournalism. Before starting, Sunny's portfolio contained little more than 'weddings and a few protests'. We checked in with her shortly after finishing the workshop, to see how things had progressed.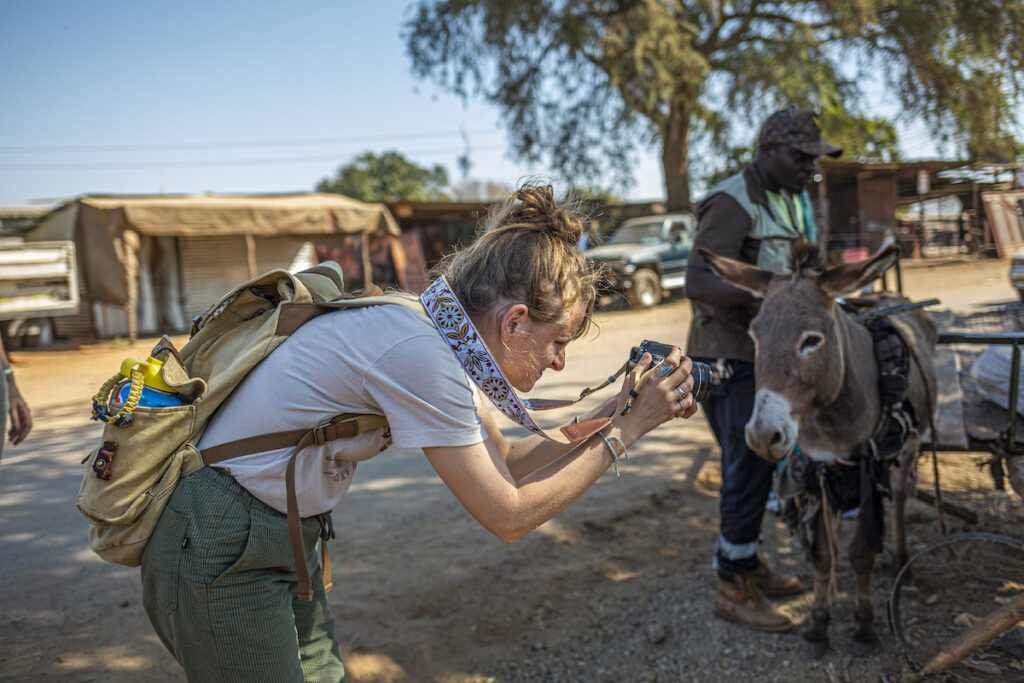 What motivated you to take on our nonprofit photography program?
"Doing photography work in Africa has always been at the top of my bucket list. Additionally, my dream job is to be a photojournalist. That being a competitive field, I felt having this under my belt would really help me. Being able to help Zambians with something I was passionate about was also a huge bonus!"
What's something you gained from this experience?
"I learned a lot about the ethics of how to talk to people and build rapport, getting shots that help further the client's message, and why we don't take pictures that would provoke pity for the people we're trying to help. Then, also what to look for and what not to look for while combing through photos after a shoot. There's also a lot I gained from visiting Africa in general, but I'm sure that's for another blog."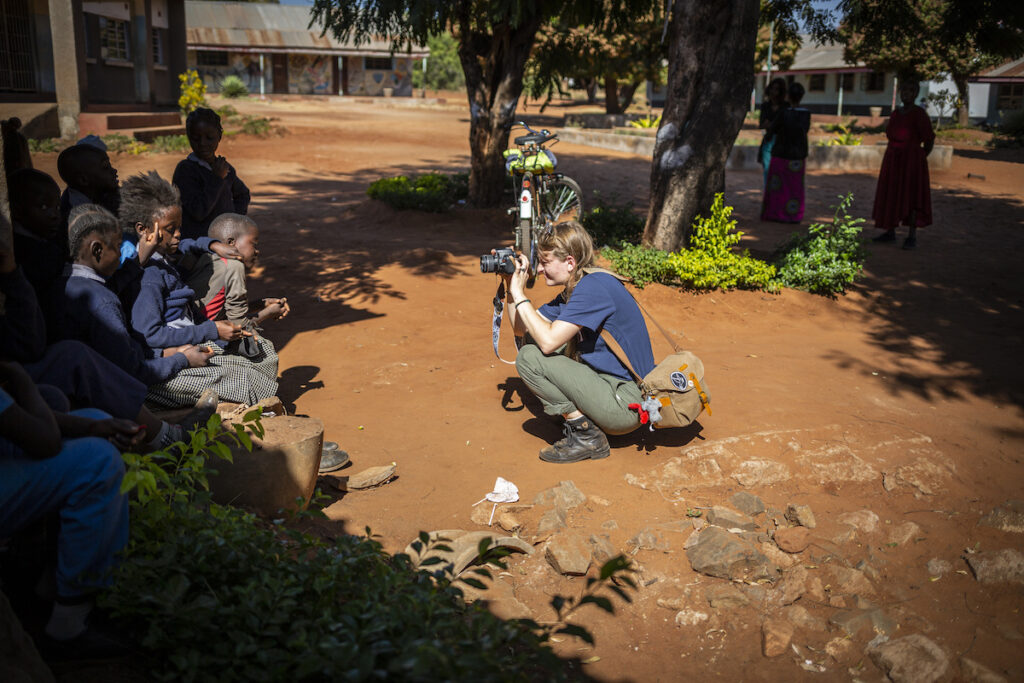 Can you share a story about any highlights from your nonprofit photography program? 
"A general highlight was everyone I worked with at Baobuyu, ZAWS, Free Haven, and the Zambezi Working Donkey Project were amazing, the organizers and locals alike. I'm also a huge fan of the hostel staff, Anna Lusty, and all the other volunteers. I miss them all greatly and think of them often.
One story that still leaves me speechless came from when I was working for Baobuyu. I was with a stitching circle made up of middle aged and older women. They were making tote bags, coin purses, make up bags, and laptop bags out of chitenge to sell to raise money for the school.
One of these women, I think her name was Belita, had to quit school very young. When I met her, she was in her late thirties with two children, a baby and toddler, and had recently managed to go back to school. To do so, she had to walk four hours a day (round trip) with a toddler at her side, a baby on her back, and a basket on her head. She had just started reading  at a 3rd grade level, I believe.
What amazed me was that I never heard her complain at all. She had only gratitude for the education she was receiving. I think of her whenever I start to whine about minor inconveniences and feel so inspired."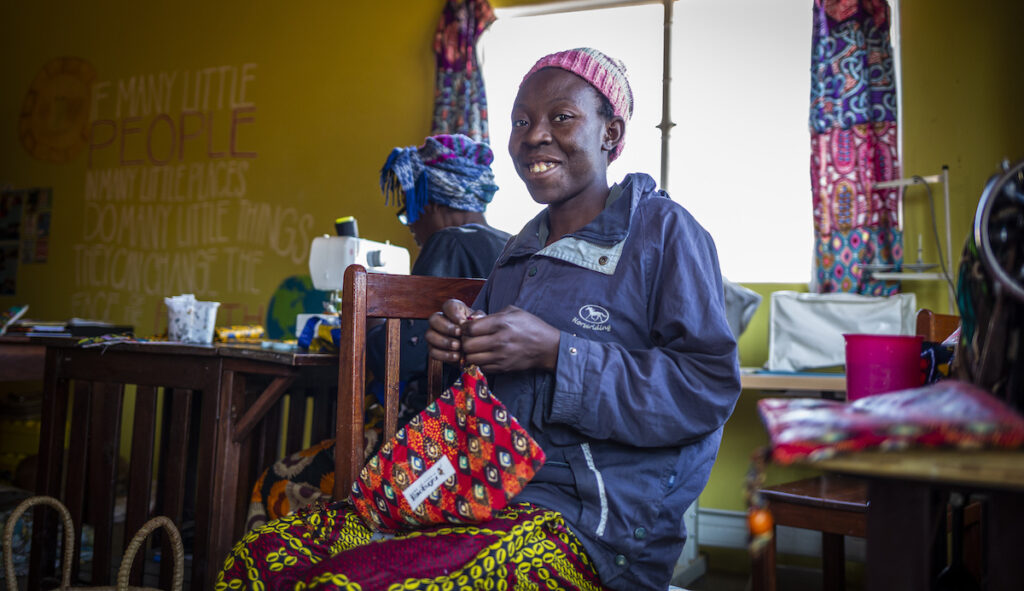 Do you feel this experience will help you in the future? If so, how?
"YES I do! This program will help me in MANY ways! Just the experience of being in a totally new place so far from everything I know gave me invaluable skills and highlighted strengths I didn't know I had.
As for the photography program, for someone trying to make a career for themselves in photojournalism… I have no words! Personally, I learn best by experiencing things. Going out, getting my hands dirty and learning from my mistakes. Getting to spend two weeks working alongside a seasoned professional in such an incredible environment was truly something I thought I would only dream about.
Coincidentally, I JUST finished building a website earlier this week.  There are a few albums just of photos I sent to the NGO's, other pictures from my African adventure, as well as other random photos I've produced over the years that I'm quite proud of!"
Interested in applying for our nonprofit photography program yourself?
So, now you have a clearer picture of what to expect from our program, maybe it's time you took the leap.
Maybe you're like Lianne and looking for a way to indulge in your photography hobby whilst helping a cause that needs it. Or like Sunny, you're looking to make your first steps in a nonprofit photography career. Whatever your situation, if you've got a passion for photography, we've got a program for you!
Learn more about our Humanitarian Photography Workshop here