Namibia Landscape Photography: 7 Highlights
Find out why Namibia is the dream destination for landscape photographers
When it comes to landscape photography, Namibia truly is a dream. With nearly half of the country being under conservation management, the African country is one of the least populated countries in the world; it's twice the size of California and has a population of two million. Apart from space, Namibia promises magnificent landscapes, varying from rugged mountains and coastlines to kilometres of wide desert and stunning sand dunes. Namibia offers a unique blend of desert flora and fauna, with extraordinary colors mainly dominated by yellows, oranges and blues. With friendly people and a good infrastructure, Namibia is also a country that is easy to travel and photograph. It therefore comes as no surprise that Namibia is one of our most popular destinations for photography tours. Interested to know what there is to see? Check out these seven landscape photography highlights of Namibia.
– Text by Liselotte Tieman and Wantong Liu, images by Emil von Maltitz
1. Namib-Naukluft National Park
The Namib-Naukluft Park is arguably the most famous nature park of Namibia, and that is for good reason. This 49,800 km2 park offers a huge variety of landscapes and wildlife, resulting in magnificent and unique views. The main attractions of the park are Sossusvlei, Dead Vlei and Sesriem. Here you find iconic trees and spacious sand dunes, with among others the famous Dune 45, which is well-known for its height and is a very popular one to photograph. The best time to photograph the Sossusvlei and Dead Vlei is in the early morning hours or in the late afternoon, in which the sun creates a contrasting play of shadows.

2. Skeleton Coast
The so called Skeleton Coast is as hostile as its name suggests. Cold and volatile Benguela current from the Atlantic Ocean meets the desert landscape in north-western Namibia. But this doesn't take away from its photographic appeal, and it's very much worth the effort to be able to capture "the land God made in anger." The "skeleton" refers to the shipwrecked vessels left on the shores, which gives the coast an "end of the world" touch. Besides hazardous wrecks, the Skeleton Coast contains magnificent wide sand dunes with a beautiful long coast line, a dream for landscape photographers.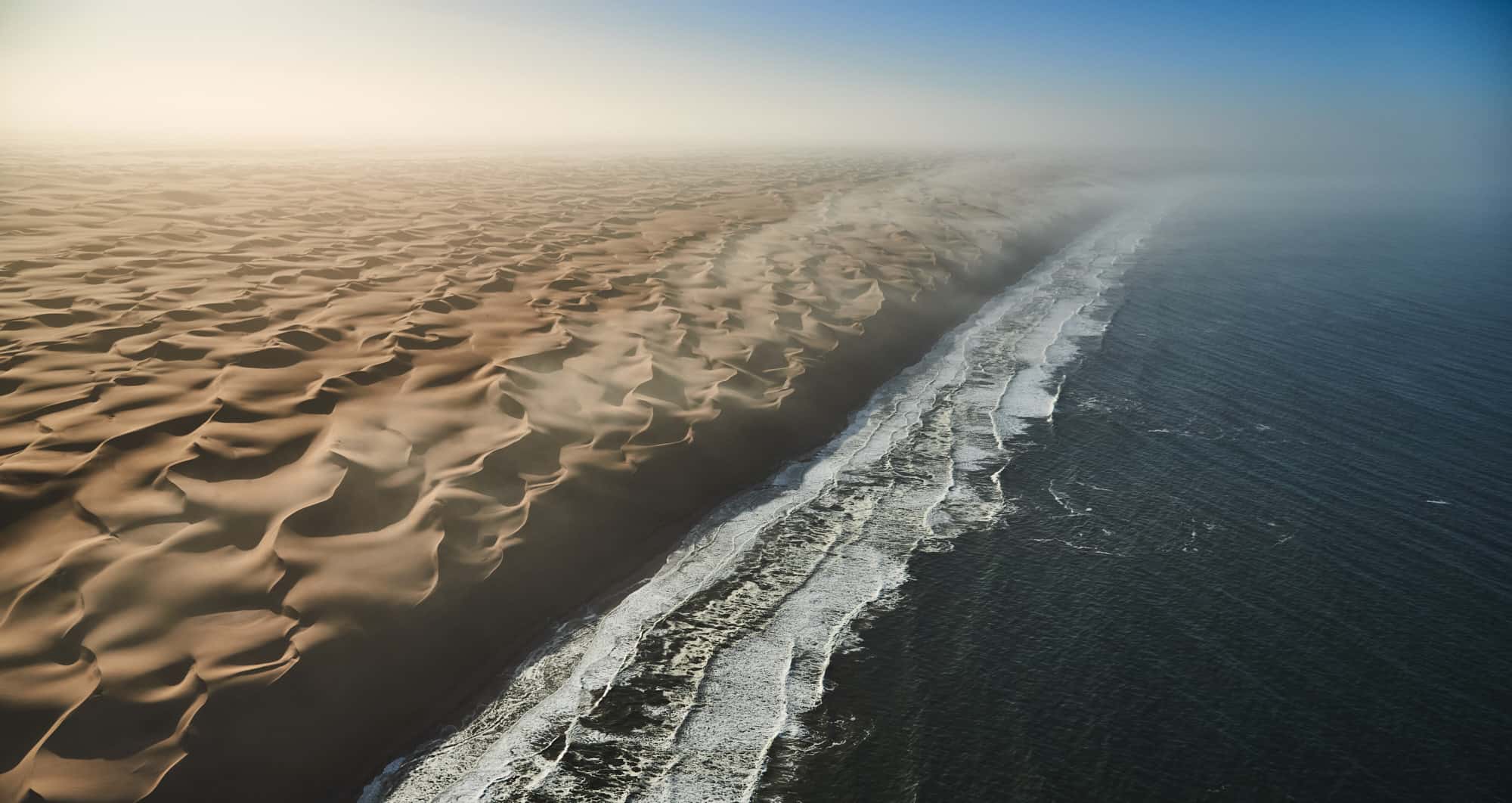 3. Quiver Tree Forest
Another excellent Namibian destination to shoot surreal landscape images is the quiver tree forest. The crown of quiver tree looks like its root, leaving a sense of "upside down" to human eyes, or photographer lenses. Its unique shape combined with the right light results in marvellous images. Quiver trees in Namibia are believed to bring good luck to those who worship them, so don't forget to pay some respect when you are capturing their portraits!

4. Kolmanskop
Kolmanskop is Namibia's most famous ghost town. In 1908, a railway worker found a stone that was soon to be confirmed as a diamond. When that news spread like fire, Kolmanskop was discovered to be a mine of diamonds, leading to a total of 11.7% of the world's total diamond production stemming from this place. However, World War I interrupted this process, which led to a decline and abandoning of the area. After the town was abandoned, the sand of the desert was able to sweep into the houses and buildings, resulting in impressive scenery that is now known as one one the most popular places for photography in Namibia. It's the combination of the time worn buildings and its slowly fading, bright pastel shades of paint together with imposing sandbanks that make up for beautiful imagery. In order to photograph the place with the most stunning light, it is advised to go in the early morning, in the late afternoon when the sun is beginning to set or to go in the evening when you have the chance to capture this magnificent ghost town with a sky full of stars.

5. Fish River Canyon
Located in southern Namibia, the largest canyon in Africa, and second worldwide, is a major attraction for hiking and landscape photographing. Make sure to high five the Four Finger Rock, where 4 rocks stand side by side, forming a massive "hand" reaching to the sky. If you are also a huge fan of wildlife photography, go visit the Gondwana Canyon Park, where giraffes, zebras, leopards and many other local species wandering around freely despite the tough climate. According to Emil von Maltitz, one of the photographers that guides our Namibia tour, the Canyon is photographically very interesting in the Spring and Autumn (November and April), as there is a better chance of cloud activity to create drama in the sky. During the winter months the sky can be a featureless blue for weeks on end (great for astro photography, not so great for daytime landscape photography).

6. Spitzkoppe
In the desert of Namibia, you may find a group of bald granite peaks. Spitzkoppe is more than 120 million years old and the highest outcrop rises about 1,728 metres above sea level. Emerging from the flat plains, the peaks form a spectacular scenery that leaves you admiring the silent, but persistent power of mother earth. "Spitzkoppe is a fascinating photographic playground. It is a great location for 'golden hour' shoots of the basaltic rock formation, which can glow a wonderful burnt orange in the early morning and late afternoon" says Emil von Maltitz, one of the photographers that guides our Namibia tour. His personal preference for photographing Spitzkoppe tends toward a Full Frame camera with large aperture wide-angle lenses, and a sturdy tripod.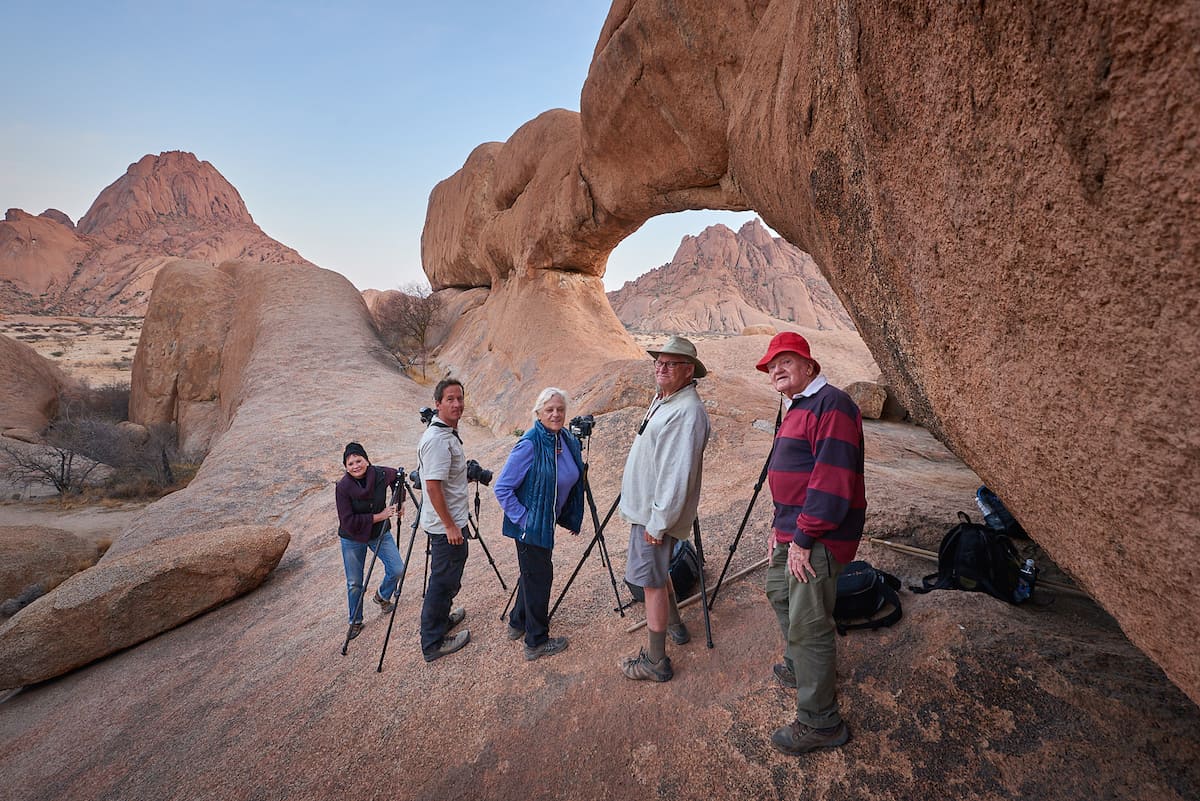 7. Etosha National Park
Even though Etosha is mostly known for the amazing opportunities for wildlife photography, there is no lack of opportunities to capture marvellous landscapes either. The park, located in the north of Namibia, is huge and offers a great variety of landscapes, from vast desert to waterholes and lush bushes. The flat landscape leads to endless views, which combined with the great diversity of wildlife will result in impressive imagery. Due to the fact that the park is so immense, be prepared to spend about at least 7 to 10 days in the park to make sure you have captured a great variety of landscapes.
Wanna pick up your camera and give them a try? Click here to check out our Namibia Landscape Photography Workshop this November!