The most photography-inspiring spots in and around Cape Town
If you travel to South Africa, you'll most likely pay a visit to Cape Town. Known as 'the Mother City,' Cape Town was the first city in South Africa, and has grown into a vibrant and international metropolis. It's a city with a unique look and vibe, and we're lucky to be based there. So we thought it was time to devote some attention to this amazing city, and list some of its photographic highlights.
– Text by Liselotte Tieman
1. Table Mountain
It probably comes as no surprise that Cape Town's most iconic and well-known mountain is one of the most popular locations for photography. The amazing views after a trek to the top (or a comfortable cable ride) will leave you awe-struck. The hike up is a treat in itself, as you'll be able to find amazing flora and fauna, including waterfalls, caves and forests. Once you're at the top, the vast vistas are perfect for capturing incredible landscape images. Moreover, Table Mountain is amazing to photograph from the ground too; its iconic silhouette provides a striking frame for pictures of the city.
2. Chapman's Peak Drive
The drive among the Chapman's Peak mountain is, arguably, one of the most beautiful drives in the world. So the reason to do this drive for photography speaks for itself. Every turn that you take will lead you to beautiful photograph-worthy views. There are plenty of picnic stops on the way to take a break, enjoy the view and shoot some incredible scenery.

Check out our photography volunteer program that combines photographing Cape Town with contributing to development programs.
3. Bloubergstrand
Bloubergstrand is an incredible white and spacious beach with a bright blue sea. Not only will you be able to shoot amazing beach pictures, but photographing the Table Mountain from this side will definitely pay off, often resulting in postcard-worthy photographs. Even in foggy weather, you may be lucky to be able to take the most incredible and mysterious photos.

4. Kloof Corner
The trek of Kloof Corner is less known than Table Mountain, Lions Head or Devils Peak. It's a fairly easy hike but nevertheless results in amazing views once you've reached the top. Because it's less popular than the other viewpoints, it's less crowded so you'll be able to take your time to create beautiful images.
Tip: go for a sunrise hike or sundowner to experience the beautiful view with stunning lighting and an inspiring play of contrasts.

5. Bo-Kaap
One of the oldest neighborhoods of Cape Town is Bo-Kaap. It's right in the city center, on the slopes of Signal Hill. It's one of the most vibrant and distinct neighborhoods, well-known for its colorful houses and friendly community. Bo-Kaap is therefore a must to explore for street photography. It's perfect for a morning or an afternoon stroll.
6. Cape Winelands
One of the first things that often come into people's minds when thinking of the Western Cape, is wine. And that is for a reason! Cape Town is surrounded by amazing vineyards, for example in Constantia, Stellenbosch and Franschhoek. Wander around through old white farms, sip on a glass of wine and enjoy amazing views over the spacious wine fields. A very good one for landscape photography.

7. Muizenberg Beach
The ocean water at Muizenberg Beach is much warmer than on the Atlantic Seabord, which in combination with the shallow sea and thus small waves, makes this one of the most popular beaches for surfers of all levels. Visit Muizenberg Beach to experience the surfer vibes, the warm and friendly character and the colorful beach huts, which can not be missed. Again, here you are guaranteed to take postcard-worthy photos.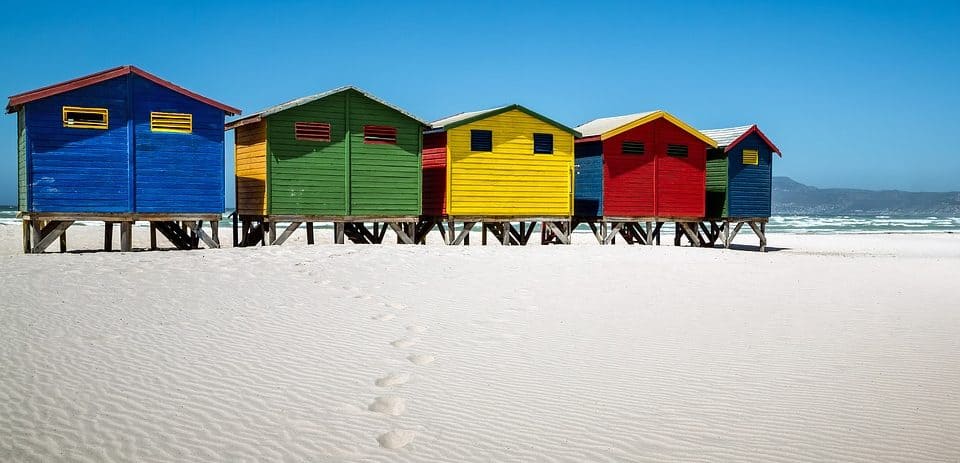 Ready to take out your camera and start photographing Cape Town? Check out our photography volunteer program, which combines photography and a contribution to development programs in Cape Town.