What you can expect from doing photography in the Amazon
Based in the heart of the Peruvian Amazon rainforest, we are excited to host unique photographic experiences; a wildlife photography workshop, and a photography internship. These programs are guided by Mark Fernley, a British photographer who has made the Peruvian rainforest his home. We asked him a few questions about the photographic highlights of the Amazon rainforest, and on what to expect if you venture out there on one of our trips. 
– Text by Jilke Tielemans, images by Mark Fernley
What makes the Peruvian Amazon Rainforest specifically great for photography? 
The Amazon Rainforest is one of the most fascinating locations for wildlife photography. We still discover new spices every day in this Peruvian forest. Protected by the Andes Mountains, the forest in the lowlands contains wildlife that varies from frogs and snakes to large mammals and insects of all colors, shapes and sizes. The insects are great to capture with a macro lens. There's a wide range of photographic opportunities; you can take wide angle shots of the forest tree giants, there are plenty of telephoto opportunities of river bird species, and there's a chance of photographing the majestic jaguar. 
What kind of experience can people expect? 
Doing a photography workshop or a photography internship in the Amazon Rainforest will make you feel like you're secluded from the busy world. You'll be the closest to nature that you will ever be. I'll be here to give you photographic tips and personal tutoring, and I'll be happy to give you scientific background information on the different animals you'll be photographing. Whether you are experienced or a beginner, you will be able to photograph everything the forest has to offer! 
Who should join the photography internship? 
Any wildlife photography enthusiasts who are keen on improving their skills and building a unique portfolio. Also anyone keen for a wild and remote adventure. As an intern, you'll be based at a rustic lodge based in a research station, in the heart of the rainforest. 
And who should join the photography workshop? 
This workshop is an amazing experience for wildlife photographers, wildlife enthusiasts and animal enthusiasts. Photographers of any level can expand their unique portfolios,  improve their technical photography skills, and also learn about composition and post-production. Animal enthusiasts will also have the unique opportunity to gain a better understanding of the species found in the area of Tambopata. 
The lodging of this workshop is of a high standard setting to guarantee a comforting time in the rainforest. You will enjoy exquisite meals while fine dining after each wildlife photography day. 
What have some of the highlights been for you, living there? 
Living in Puerto Maldonado as a wildlife photographer and project manager conducting projects with conservation has been challenging but exciting. Some of the highlights for me have been guiding a camera crew into the forest for the production of 'Our Planet', and being part of the mirror image stimulation study featured in National Geographic. Another highlight has been creating extreme macro photography, which was featured in Wildlife Photographic and Wild Planet. Finally, spotting jaguars during photography workshops. 
Some Amazon Rainforest Photography Highlights  
Macro photography 
If you're into macro photography, the Peruvian Amazon is the right place for you. The forest is home to a wealth of stunning creepy crawlies that lend themselves perfectly to up-close photography. An example of this is the leaf-mimic Katydid. These little insects look a bit like crickets and grasshoppers, but are perfectly shaped like leaves. They are masters at camouflaging. Definitely worth a shot! 

Monkeys
Joining a photography workshop in the Amazon Rainforest will give you the opportunity to photograph a variety of different monkey species. Titi Monkeys, Spider Monkeys or Tamarin Monkeys are just a few of the species you might be able to capture. Titi Monkeys, with their long and soft fur, are definitely a photographic highlight. These monkeys are highly social, are known to make a lot of noise, and are generally found near rivers or lakes.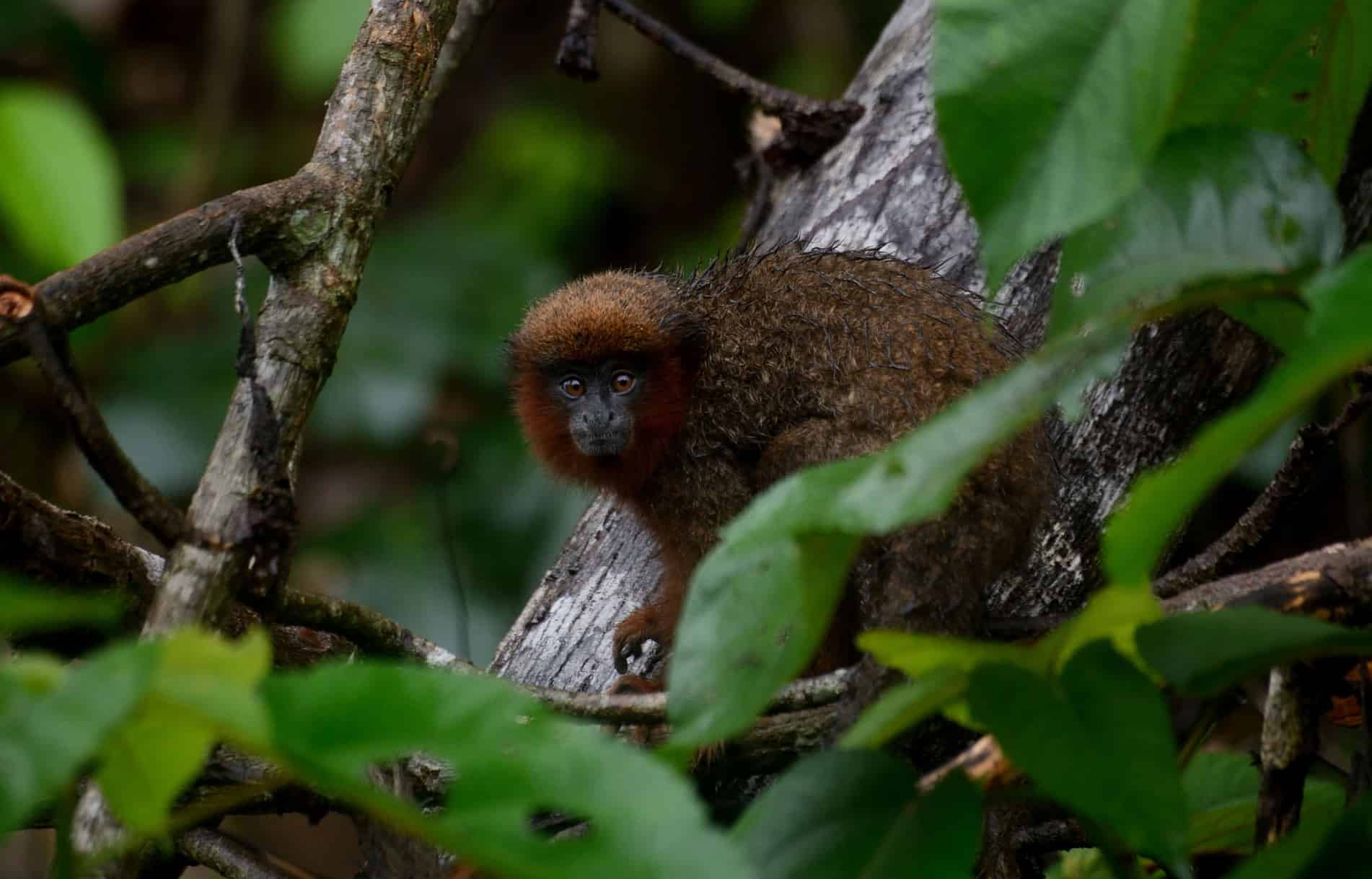 Reptiles
The Peruvian Amazon is reptile photography heaven. You can expect to find unique snakes, frogs, lizards and turtles. A particularly photogenic snake is the Emerald Tree Boa. They spend their time in trees, high up in the foliage. Their color and pattern is what makes them unique and distinctive from other snakes, and a joy to photograph.

Large Mammals
Apart from the many smaller animal species that the rainforest is home to, large mammals can be found as well. You might spot sloths, lowland tapirs, pumas, giant river otters, or if you're lucky, the majestic jaguar. Unfortunately, the population of these big cats is decreasing fast, so don't wait too long if you'd like to encounter them in their natural habitat. 

Find your own Amazon experience
Amazon Wildlife Photography Internship
If you want to improve your photography skills, build a portfolio, and have an adventurous experience, this wildlife photography internship could be a perfect opportunity for you. The internship has weekly start dates and you'll be in a group of no more than six people, allowing plenty of individual tutoring. You can expect to capture a large variety of animal species, sharpen your skills, and learn about what it takes to become a professional wildlife photographer. 
Amazon Rainforest Wildlife Photography Workshop
Our wildlife photography workshop in the Peruvian Amazon is a unique travel adventure with a photographic focus. Regardless of what level you're at as a photographer, this is a great trip for anyone who would like to explore this stunning jungle through their lens. You'll be guided by Mark Fernley, who will offer his expertise on both photography and the wildlife you'll be surrounded by. The next workshop will take place in July 2021.