The beauty of Ethiopia's dashing blend of scenery, wildlife & culture
– By Chiara Bonvento
Ethiopia is a photography destination like no other. It's a country that offers a wide variety of photographic gems, and one that doesn't experience the mass tourism that is found in many other African countries. As a photographer, you can expect plenty of inspiring scenery; dramatic mountains, vast deserts, sweeping savannahs, and impressive waterfalls. These natural tableaux are broken up by a wealth of historic monuments, such as the rock-hewn churches of Lalibela and castles of Gondar. Moreover, the country's colourful cultures and soulful people make for inspiring photographic subjects. So we're excited to announce that Ethiopia will be one of our new destinations! Stay tuned for an exciting Ethiopia photo tour. In the meantime, here are 7 reasons why Ethiopia is worth a photographic exploration.
1. The Danakil Depression
This area is located in the Afar Region of north-east Ethiopia, near the border with Eritrea. The vastness of this land will be the first feature to capture you. It only receives 100 to 200mm of rainfall per year and it is also one of the lowest places on the planet, at 125m below sea level. But against all odds, people do live here; the Afar people call it their home.
Reaching this alien world requires time, but it's worth the effort because the area holds invaluable treasures for the avid photographer. Seemingly Martian red hills, mysterious and photogenic landscapes, cracked rock formations and frozen black-lava flows serve as the main photography workshop attractions.
With more than 30 active and dormant volcanoes, this is one of the most unique geological regions on earth. During your photo tour, you will come across the Erta Ale volcano, which hosts a permanent lava lake. Capturing this fiery cauldron, soaked in bright bubbling lava won't be easy, but once you'll find a comfortable position for the images requiring long exposure, the results will be priceless: an hellish lava look contrasted by a dark, starry sky.
Within an hour drive, you can also reach another breathtaking location: the sulphur lake. You may start the photo-party because a brew of colours never seen before, wide salt lakes and fluorescent green pools of sulphuric acid will give you the impression of being on another planet.
2. Gondar, "The Camelot of Africa"
A constellation of grand castles, fortified palaces and massive ruins, reminiscent of medieval Europe, hides behind thick walls in Ethiopia's north-western region. Gondar, the quintessence of Ethiopian civilization, wedged between rich natural resources, found its ideal location in the foothills of the Simian mountains at an altitude of 2,200 meters above sea level. Gondar served as the capital of Ethiopia for more than 200 hundreds years. Because of the focus on arts and architecture, it has been labelled the Camelot of Africa.
The royal compound, locally known as Fasil Ghebbi, built around the 1630s by Emperor Fasilides and which still stands tall today, is a cocktail of architectural skills. Shadows of a past culture dwell in this ancient area, and royal and religious roots intertwine.
Next to it, the Debre Berhan Selassie (Trinity and Mountain of Light) Church rests, which represents a beautiful example of Ethiopian church art. Built by an emperor and preserved by an archangel, it is the cradle of Ethiopian religion and is also among the most important churches of the country. The outside of Debre Berhan Selassie is rather plain and unassuming, but after stepping inside will you will be astonished. The walls depict ecclesiastic artworks, from biblical scenes and saints to a ceiling adorned with the faces of hundreds of angels.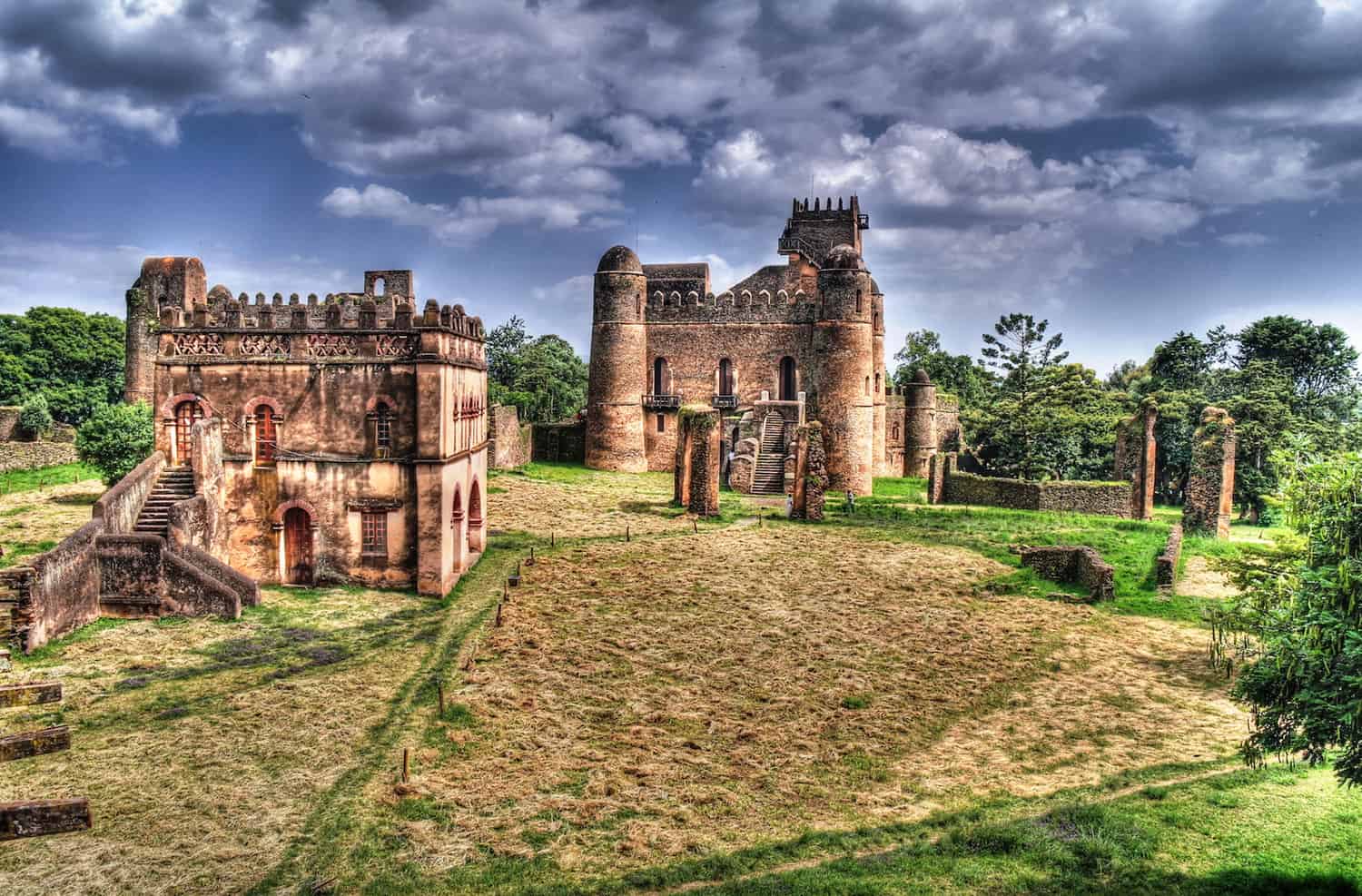 3. The Simien Mountains
The Simien Mountains National Park, an UNESCO World Heritage Site, is a rough and remote chain of mountains that stretches across northern Ethiopia. One of the few places in Africa that receives regular snowfall, this colossal plateau, characterised by rugged peaks, offers challenging but rewarding treks along its spine. Millions of years of erosion and lava outpourings have given birth to a surreal landscape, perfect for a photography workshop, with deep valleys and sharp precipices.
However, it's not just the scenery that will impress; the park is of global significance for biodiversity conservation because it is home to globally threatened species, consisting of the rare Simien wolf, gelada baboons, the walia ibex and lammergeyer vultures.
4. The Omo Valley
Ethiopia is a melting pot of different cultures, with over 80 ethnic groups and languages spoken. After a look at the different traditions, you will hardly feel like you have visited just one country. Some of the world's oldest human remains were found in this region, and today the Omo Valley continues to provide a glimpse into ancient ways of life. The main reason that the Omo Valley is like nowhere else on earth is due to the multiplicity and strength of the indigenous cultures that exist here.
More than a dozen tribes live along the banks of the Omo River. All with different customs, rites, rituals and clothes. Lip plates, scarification and face paint are just a few of their body adornments.  One is bound to find interesting new compositions while exploring this area. Learning from the people you are photographing, interacting and engaging with them, sharing your stories while listening to theirs.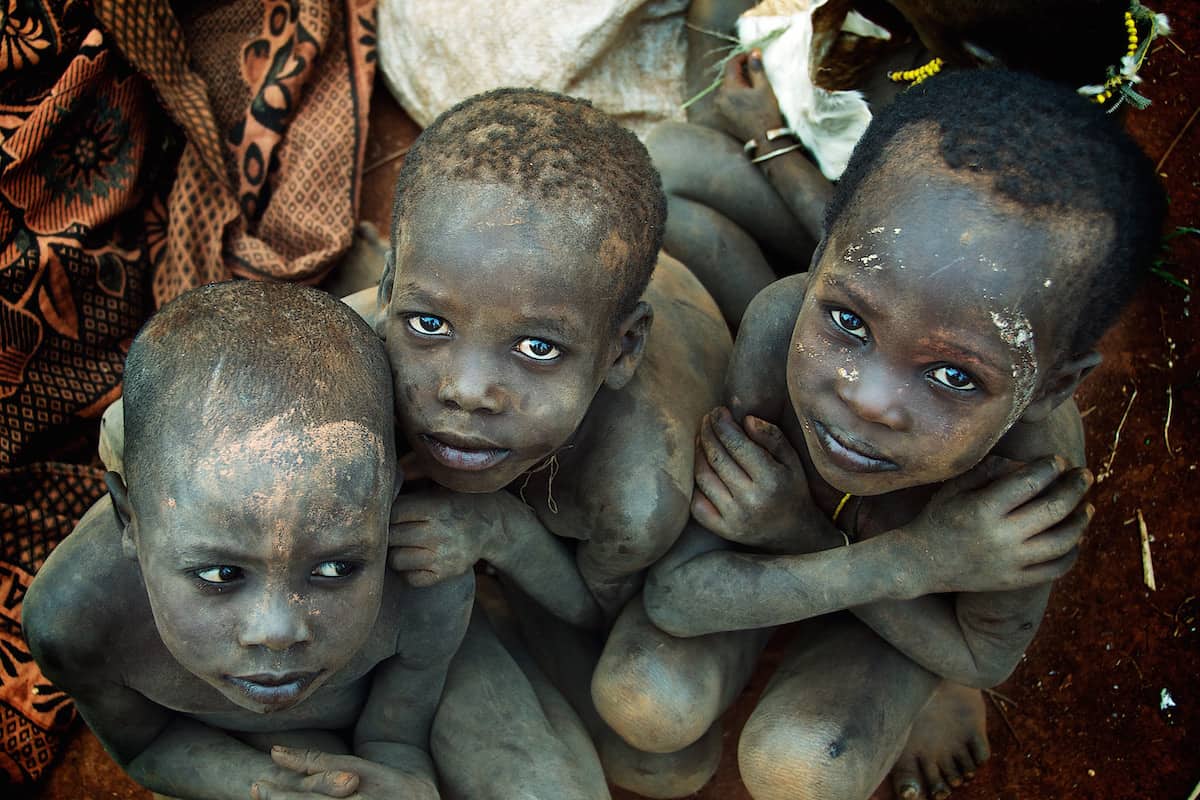 5. Obelisk of Axum
Ethiopia was once home to one of the world's greatest trade-based empires, the Kingdom of Aksum. Centred as a trade route between the Mediterranean, Africa, and the Arabian Middle East, the city of Axum flourished in culture, power and wealth. A series of spectacular monumental stone pillars, technically called stelae, were erected both to display power and to mark the tombs of important leaders. The tallest one is the Obelisk of Axum, 23 meters high, carved from a single, solid block of a weather-resistant stone similar to granite. The entire monolith is an architectural illusion. It appears to have frames, structural supports, and windows, all of which are only carved outlines.
6. The Blue Nile Falls
The Blue Nile Falls is a waterfall on the Blue Nile river in Ethiopia. It is known as "Tis Issat" in the local Amharic language, meaning "smoking water", as the continuous dropping of water creates a smoke-like bounce of water droplets and hazy environment. It is situated in the Ethiopian plateau on the upper course of the river. The falls are visually dramatic, estimated to be 45 metres high and consisting of four streams. This misty flood produces frequent rainbows, shimmering across the gorge, ending in a small perennial rainforest of lush green vegetation, to the delight of the many monkeys and multicoloured birds that inhabit the region. It is a natural untouched gem which constantly reproduces spectacles and is enriched with different types of wildlife that can only be found in Ethiopia. Though first time travellers will anticipate a blue tone of the falls (owing to the name), their colour is actually brown. Reason being that during summer the rain erodes huge amounts of fertile soil from the highlands.
7. Lalibela Town
Lalibela is history and mystery frozen in stone. In the 12th century, the Christian King Lalibela ordered the building of a second Jerusalem on Ethiopian soil when the original was captured in a raid by a Muslim faction in 1187 AD. There are several stories surrounding the creation of this site, one of which says that humans worked during the day and angels would speed up the building overnight.The result consisted of 11 interconnected churches carved into rose-gold mountain rocks and dug into the ground by hand. At first glance, it's the majestic architecture that charms you. Then, small arched doors guide you towards elaborately painted ceilings and murals.
For your photography workshop, it is useful to know that in some of the churches the flash is not allowed, therefore using high ISO settings is preferred. In need to illuminate a subject, make use of a torch and ask the priest if it is okay to shine it on an item. Every sanctuary is unique in its own way, but the best known is the Church of St. George, which shapes a Greek Orthodox cross and is the most iconic place where to catch the sunset with your camera lenses.
The labyrinthine world of Lalibela provides a solid foundation for the faithful, every day there is service in all churches. Lalibela is a place where worshippers' faith brings life to the ancient walls in the most profound manner.
Ethiopia's dashing blend of scenery, wildlife and culture make this a destination for a photo tour like no other, offering endless photographic opportunities. Stay tuned for our new Ethiopia Photo Tour!