We're excited to have this article on our Namibia Landscape Photography Workshop featured in Flamingo this month, Air Namibia's inflight magazine:
Capturing Space: Our Namibia Photography Workshop
A wondrous thing space is. It humbles, it inspires, and it gives a sense of endless possibilities. It also presents a canvas for creativity. Namibia's vast, spacious landscapes do all this for anyone who visits, and provides unique and exciting opportunities for photographers. And for those photography enthusiasts who want to make this their focus while traveling, a different kind of experience awaits with Namibia photography.
Anyone who has been to Namibia can attest to its every-changing tableau of spectacular landscapes. From the striking red sand dunes of Sossusvlei to the rocky desert of the Skeleton Coast and the sensational shapes of Quiver Forest, Namibia's scenery is absolutely striking and wonderfully unique. While traveling through Namibia is a treat for anyone seeking an exciting holiday, it offers something additional for (aspiring) photographers; it is a dream setting for landscape photography. To cater for people wanting to make the very most of a Namibia photography tour, some tour companies offer itineraries that are perfectly tailored to the needs of traveling photography enthusiasts. One of these is Penda Photo Tours, a company that specialises in photographic travel, and offers Namibia as one of its destinations.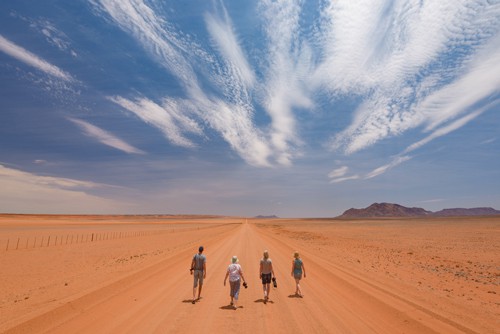 Exploring Namibia Through Your Lens
Exploring Namibia through a lens adds an exciting dimension to the travel experience. During a photography workshop, travellers are guided by professional photographers, who offer tutoring on technical aspects of cameras, composition, and post-production, both during theory sessions and while exploring the scenic highlights. This allows participants to hone their skills and put them into practice straight away. As Sue Welland, who joined one of Penda's tours, comments, "you can read all the books and articles on how to take images, and they would tell you what shutter speed is best for which particular image, but you can't beat putting all that into practice and trying (and sometimes failing) to get the image you want."
To ensure the best possible photographic results, Penda's itineraries are built around catching the warm glows of the early morning and late afternoon sunlight. Dead Vlei, the most famous of the Sossusvlei pans, presents a great example of this. The perception and character of the stark and surreal beauty of the red dunes, off-set by white salt pans and iconic skeleton forest, change with the different light conditions. Dave Hoggan, one of the workshop's participants, explains, "We photographed Dead Vlei at three key times of the day – dawn, late afternoon and night – and the images each have a distinct look and feel; few landscapes can claim that." Timing, then, is everything. Michael Evans, who also joined the workshop, says that his favourite moment in the workshop was "trying to capture the light rays just starting to coming across the dunes and light up the trees. The sun rises so fast that it's hard not to feel a sense of urgency trying to get the photo while the light is right."
Learning Landscape and Night Photography Techniques
With one of the clearest night skies on earth, Namibia also lends itself beautifully to star photography. The workshops include a night exploring the creative space of astrophotography in Dead Vlei, leaving its participants with slight fatigue but great satisfaction. "The night shoot was excellent," recalls Dave. "Not only was the photography good, but so was the experience. Nature is a truly powerful force and I have stood scant metres away from lakes of lava bubbling away (in Ethiopia), feeling the raw strength of the planet as it moves and breathes. But this night at Dead Vlei had an equally powerful display of nature: the feeling of utter calm – the abject silence of Dead Vlei in the dead of night under a sky so full of stars that it defied measure, with the afterglow of the sun still visible despite being on the other side of the world."
These photography tours are not exclusive to experienced photographers. As the groups are kept small and the tutoring is tailored to everyone's individual level, anyone with a camera and an interest to learn can join and have an enriching experience. For participant Mark Weaver, the workshop was initially daunting. "I was very new to photography," he explains. "My biggest challenge was to understand how to use the new kit I had. Luckily, knowing my (substantial) shortcomings in this area, I was encouraged to try things out, make mistakes and be provided with tuition on how to avoid them in the future and how to get what I actually wanted." Throughout the trip, Marc gained the confidence and skill to use his camera in manual setting, allowing him to "control what pictures I ended up with rather than the camera deciding for me what the photo would look like."
By the end of the workshop, things had come together, photography, for Mark. "My favorite day was the last one; an amazing day of photography, stunning quiver trees, amazing rock formations and then we were blessed with a sand storm and a thunderstorm, complete with rainbow, followed by a stunning sunset and a spectacular lightning storm. Sat with a group of people who I now consider to be friends, enjoying a picnic supper in a spectacular location with the most amazing star scene above us and a outstanding lightning display in the distance was a memory I will enjoy for many many years."

Getting The Right Images Takes Commitment
Capitalising on the photographic possibilities can require certain compromises. A photography workshop might opt to spend more time at fewer places than most itineraries would, for instance, meaning that you have to make choices. The guides might also adjust itineraries half-way through, if weather conditions prevent good photography. And then there's the early mornings. "As we need to make the most of the light, we have super early mornings and often go to bed late after having done astrophotography," explains Nick van de Wiel, one of the photography guides. "There is rest time during the middle of the day, but in our experience participants are often too so excited about the photos taken, that they want to look at and work on them during that time. But all participants find it worth it when they look back at how much they learned, how much their photography improved, and what awesome images they produced during the workshop."
And as for the photography guides, who have traveled the route many times, the magic of Namibia's expansive vistas and the richness of the experience don't wear off. As Nick puts it, "it is unreal to walk around in those beautiful settings with only a few fellow photographers, and see how the light paints those landscapes. To then capture that by means of photography is just awesome."


All images by Emil von Maltitz and Nick van de Wiel