WAYS TO SUPPORT WILDLIFE & NATURE PHOTOGRAPHY
Hone your photography skills, take amazing wildlife images, and make your photography count for wildlife conservation – you'll do it all during our Wildlife Photography & Conservation Volunteer Project. Set just outside South Africa's famous Kruger National Park, this project gives a unique opportunity to great wildlife photography and give back at the same time. As the Communications Intern at Penda, I recently got invited to join the project for a week, and  experienced how participants learn photography and make their impact. Here are the five highlights of this conservation photography program. 
The Wildlife Photography in Kruger: 
"You get to see all of these amazing animals. A lot of them are extremely endangered and people think they aren't going to last much longer. Actually coming out to see them …is amazing." – Brooke Immen (volunteer from the US)
My visit to the Greater Kruger Area was my first trip out of Cape Town since arriving in South Africa. I, like most Americans, had never seen a wild rhino, giraffe, zebra, warthog, and certainly never a leopard. I was picked up by my guide in Hoedspruit, which is the closest town to the Klaserie reserve and Dumela Lodge. It's a small center of shops, restaurants, street markets and gas stations; the only one within miles and miles of wildlife reserves. Once you leave the town center, the street you drive on is surrounded on both sides by game reserves. Separated from you by nothing but a heavily protective fence, this extensive area of open bush exists for the local wildlife, which roam free.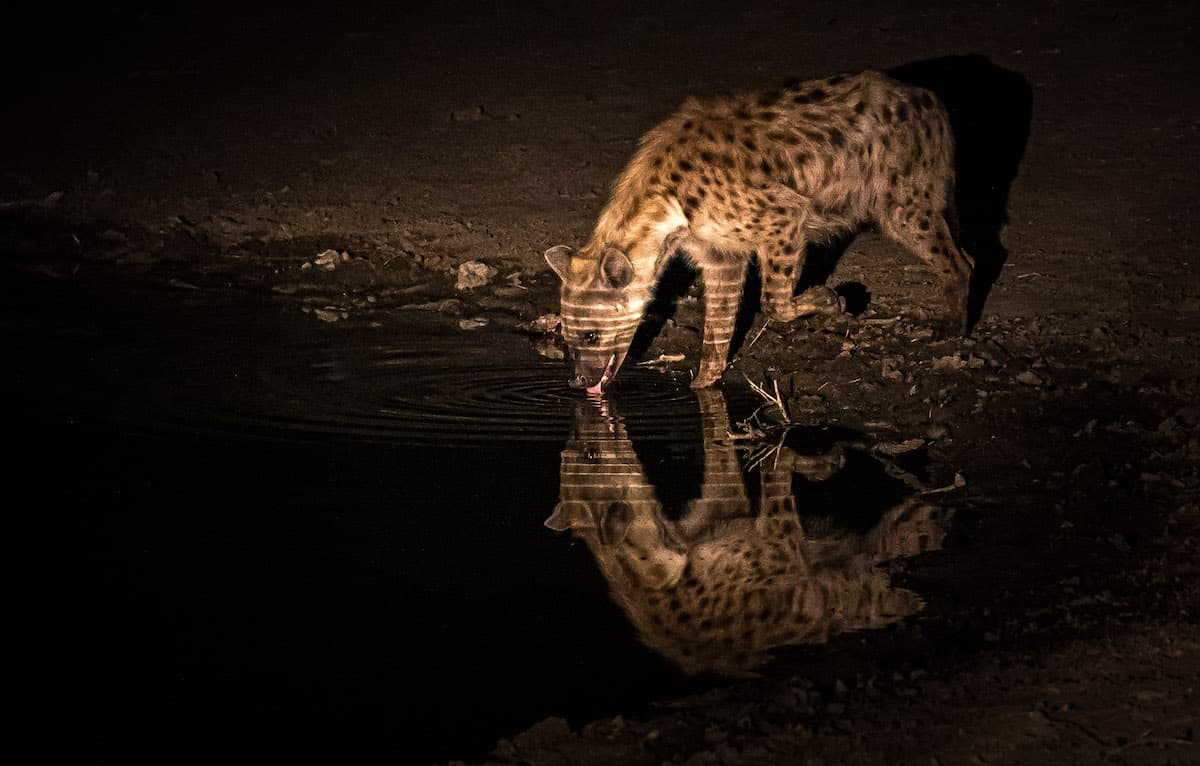 Image by Sam Cox
Driving on this singular road, I could feel excitement like electricity, creeping up from the tires of the car to my plush seat. It was on the trip from the bus stop to the lodge that I saw my first wild giraffe, and that one moment, to me, was beautiful. She was happily munching on some leaves, glancing peacefully at my guide and me as we slowly pulled over to the side of the road. Baboons walked interestedly passed us, and I could sense this was only the beginning. In the days to come I learned giraffe in Kruger are like deer in American suburbs, warthog are surprisingly adorable, baboons are extraordinarily mischievous primates, and every zebra's black and white pattern of stripes is as individual as a human being's thumbprint.
"The fact that you've got everything on your doorstep…..the Lodge itself is open to all sorts of wildlife, you've got leopard on the property, you hear hyenas calling at night…..Lions calling….so you feel like you're in the heart of the Bush, but you've got Buffalo Land minutes down the road, Klaserie half an hour away, you've got Kruger National Park forty five minutes away. So everything is on your doorstep, especially as a wildlife photographer."- Sam Cox (project staff member)
The Wildlife Photography Workshops & Game Drives: 
Your first week as a photography volunteer is an intensive grouping of daily lessons, tutorials, editing, and game drives. Professional staff trained in photography will be there every step of the way, particularly if you are a beginner. This will be your chance to learn the basics and understand proper use of your camera. During my attendance of these lectures and workshops, I was brought back to my days of photography class in university. The ratio of staff to volunteer is about 2:3, so any questions or concerns you have will be immediately answered. This personalized way of teaching is a great way to dive right into the art of photography and develop your own stylistic portfolio with the help of the staff.
"It's not just taking nice photos, but the photos are doing something- they're aiding conservation, they're teaching, the money and any profits you get from them go back to conservation. It's not just taking a pretty picture of a leopard, you're also really aiding and funding conservation, which is awesome." – Sam Cox (project staff member)
As a wildlife photography volunteer, you get to participate in 3-5 game drives a week in the surrounding reserves. Half of these take place in Buffalo Land, about 25 minutes down the road from the Lodge, and the other half take place in Klaserie private reserve. When going to Klaserie, you get the full camping experience, since the grounds are over an hour drive away. The night I spent there was the most amazing part of my stay. Our guide was brilliant, able to answer every single question asked about any animal, and even had the expertise to locate a leopard. At night I fell asleep to the calls of lions and hyenas, and felt perfectly at home in the wilderness.
Your first and second photography instructors will be with you during these game drives, to help instruct you in the photographing of landscapes and wildlife. These weekly drives are an amazingly unique opportunity for photographers to achieve incredible shots of stunning African wildlife. After every drive there are also editing workshops where you will learn to rework you photographs into masterpieces using Lightroom.
"My first experience seeing a lion, it was eating a kudu…so it was pretty cool. We were about 8, 7 meters away and there were two lions taking turns eating a kudu! Then a leopard walked up from the other side, and a bunch of hyenas too."- Tony Barrett (volunteer from Canada)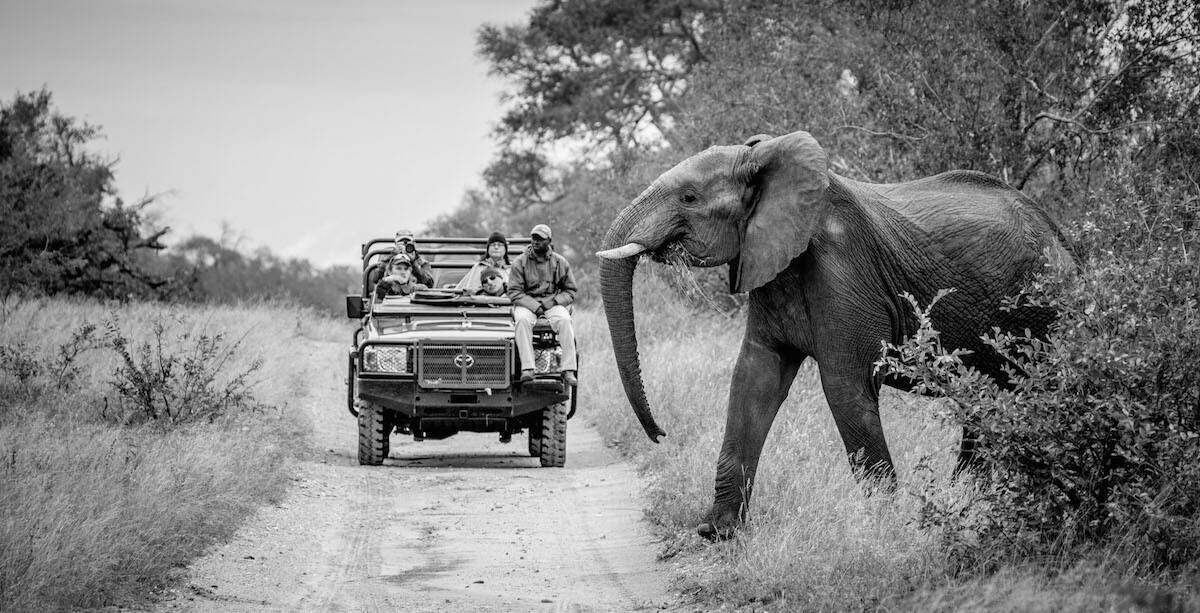 Image by Sam Cox
Supporting Conservation Through Photography:
"The main thing with our photography is that the work that the photographers are doing not only aids the whole marketing scheme (of the local community) but we can use our photos to aid in the education process. So, it's not just a case of you telling them what a leopard is, but they can actually see first-hand what a leopard looks like, and you can go into all different details on animals. If you have that photographic evidence it will stick in a lot closer to them. As for me, the second photographer, being able to go out there and assist in other things, doing video work, getting to know the principal, the staff, seeing the kids over and over again, some of them start to recognize you….The whole bigger picture kind of sinks in a bit more." –Sam Cox (project staff member)
There are two major ways that building your professional portfolio while in South Africa can also help support animal conservation. First, you will have the opportunity to visit a local high school on a weekly basis and take part in Education Conservation. This classroom experience allows you to involve yourself in the local community, and help to educate students on why conservation is so important! Many of the pupils you work with will have never seen the wildlife you have the privilege to photograph every week, despite the fact that they are surrounded by wildlife reserves. So this is your chance to spread your photography and promote education!
Furthermore, all of your finalized and edited photos taken during your stay can be donated to a data base that provides professional photography to local NGO's, which supports their business and promotes marketing.
"I thought it would be cool to get to make an impact while taking photos at the same time, so that's what I did."- Brody Boldt (volunteer from Canada)
Creating a Global Family: 
"All the staff are experienced, well-trained, they know what they're doing….it's a good environment to work in, learn in, and enjoy myself. You get to meet people from all over the world."- Brendan Conerford (volunteer from Ireland)
Lunch and Dinner are always served family-style at the lodge. Everyone eats together, mingles and talks, and everyone is made to feel welcome in any conversation. There are weekly presentations and meetings for all volunteers and staff. Anyone who wants to learn simply needs to ask. The supportive vibe echoes throughout the entire establishment.
"Everybody shares the same passion, whether it's for photography or wildlife, it's a unique thing that brings people together….so there's a much more supportive system going on…..there's no sort of bad-mouthing or cynicism that grows in a lot of workplaces… it's just pure love, support, and passion from everybody in regards to what they do."- Sam Cox (project staff member)
Image by Sam Cox
Expanding Your Horizons: 
My stay with the volunteers who strive to promote and increase wildlife conservation was an amazingly eye-opening experience for me. The authenticity of the South African bush welcomed me like an old friend. Despite having to check my shoes for spiders or scorpions each morning, I felt a profound meaning in my daily tasks, making any difficulty or hardship an opportunity, albeit a challenging one. Each day I felt new bonds with other volunteers and staff members as we ate traditional South African meals around three large tables all pushed together to form one. During my week stay, there was a total of two leopard sightings- and each night following there were countless photos of the big cat passed around to everyone at dinner.
On the weekends, volunteers are given many opportunities to travel throughout the area. I was lucky enough to attend the "Panorama" road trip, which stops at many notable geographic locations in the mountains with spectacular views. My personal favorite was the "Potholes", a strikingly beautiful landscape that struck me as a perfect setting in a Tolkien novel. I also had a very up-close and personal meeting with a baboon that I very much enjoyed.
This volunteer opportunity is sure to introduce you to amazing new opportunities to expand your personal and professional growth, while also providing the enjoyable travel experience of a lifetime.
"Where I'm from you don't get to see these animals unless you're going to a zoo. I like animals, I like working outside, and it just felt quite natural…..if in any way I can help prevent any of these animals going extinct, I'd like to help. "- Brendan Conerford (volunteer from Ireland)