The Story Behind The Image: African Wild Dog Photography
Find out what it took for Brian Geissel to take these images during the Wildlife Photography and Conservation Volunteer Project
UK-based photographer Brian Geissel recently took part in our Wildlife Photography & Conservation Volunteer Project. One of the highlights of his 4-week stay in South Africa was an encounter with a pack of playful African wild dogs, animals that are endangered and difficult to find. Here's Brian's account of this experience, and the resulting images.
– Text and images by Brian Geissel, edited by Wantong Liu
Chasing the wild dogs
The African morning sun had just broken through the cloud for a brief moment, shinning a shaft beam of light onto the road that led us to game reserve. The warm wind was beating hard against my face, making it challenging to look at the spectacularly stunning scenery of the Mpumalanga Mountains. I was sitting in the back of the game drive vehicle with the other wildlife photography volunteers.
Suddenly, our guide Yuka got a message on his radio about sightings of African wild dogs at the other end of the reserve. Yuka quickly changed gears, turned the vehicle around, and began track the wild dogs.It was the first time in weeks that these animals had been spotted, which is no surprise, as they are endangered and there's only an estimated 3,000 of them left in South Africa.
Slowly we came close to the forest. To see the wild dogs for first time was magic. As they sniffed the air unaware of our presence, we were sneaking in the distant wearing neutral clothing to camouflage ourselves. Even the truck is painted light beige. Yuka decided to drive to the other side of the dense forest to get closer to the wild dogs. We sat for a while watching them sleeping below the small trees, hiding away from the sun.

Learn more about Brian's experience as a wildlife photography & conservation volunteer in his own words!
Photographing Wild Dogs
Lying beside me was my Nikon with an attached 300mm Fresnel Prime lens attached to the body. I think it's much lighter and way sharper than a Nikon 70-300 mm zoom lens or other zooms lenses for that range. Wildlife photography is different to other kinds of photography in that animals do not stay still. They are constantly on the move. When you follow them into dark areas and bright areas, you have to adjust ISO constantly and ignore anything else.
For this photo of the two wild dogs, I set the shutter speed very high to 1000 to make the action clear. I could have gone for a slower shutter speed to create movement but I decided not to do so, because it is rare to catch them playing with such great excitement. I kept the wild dogs in focus and panned with them as they ran around in circles, paying no attention to us. They're beautiful creatures with big mickey mouse ears, behaving similar to my own five dogs back at home. It was an amazing experiencing to get this close to the wild animals.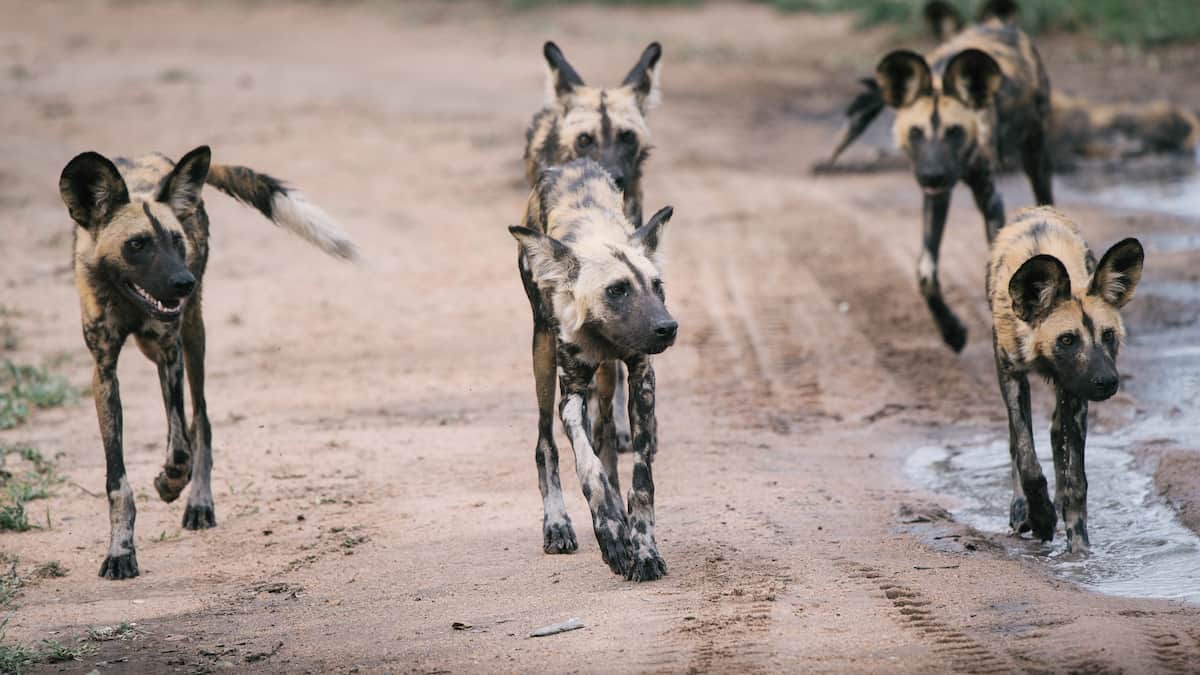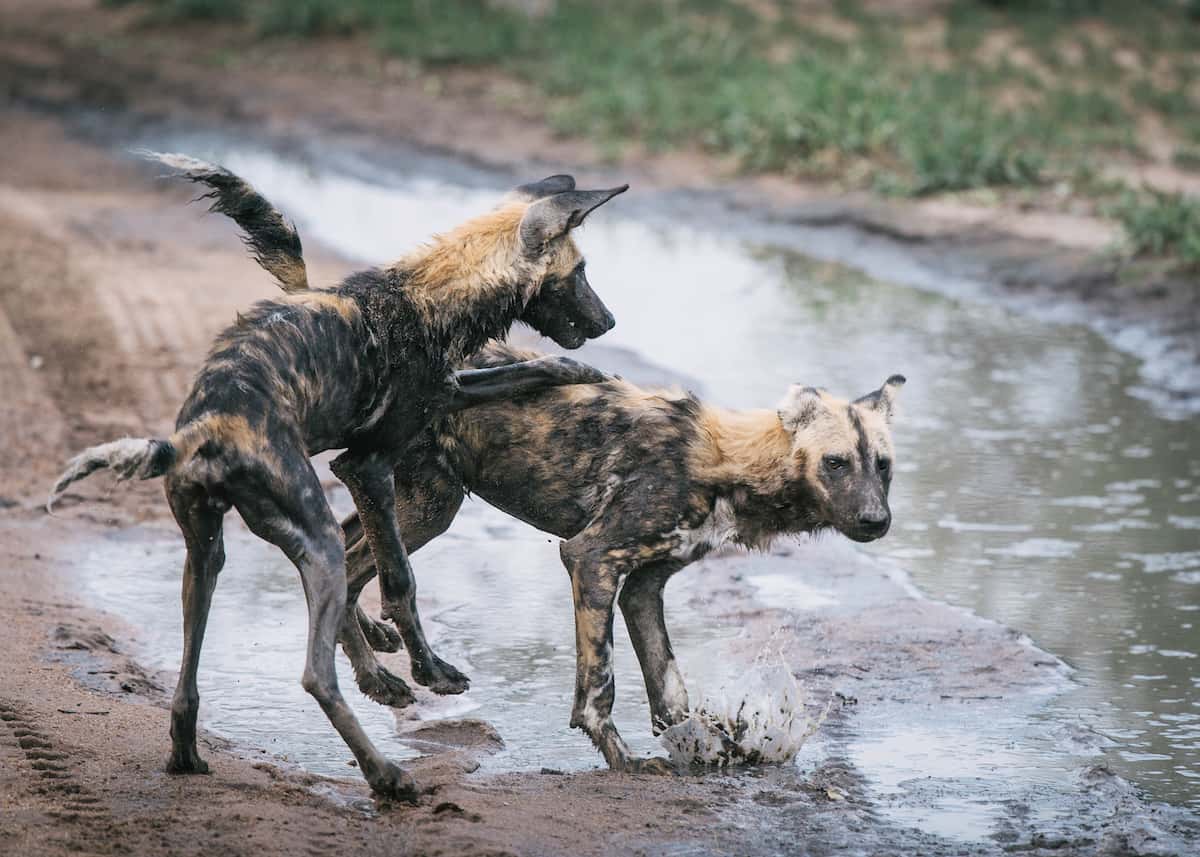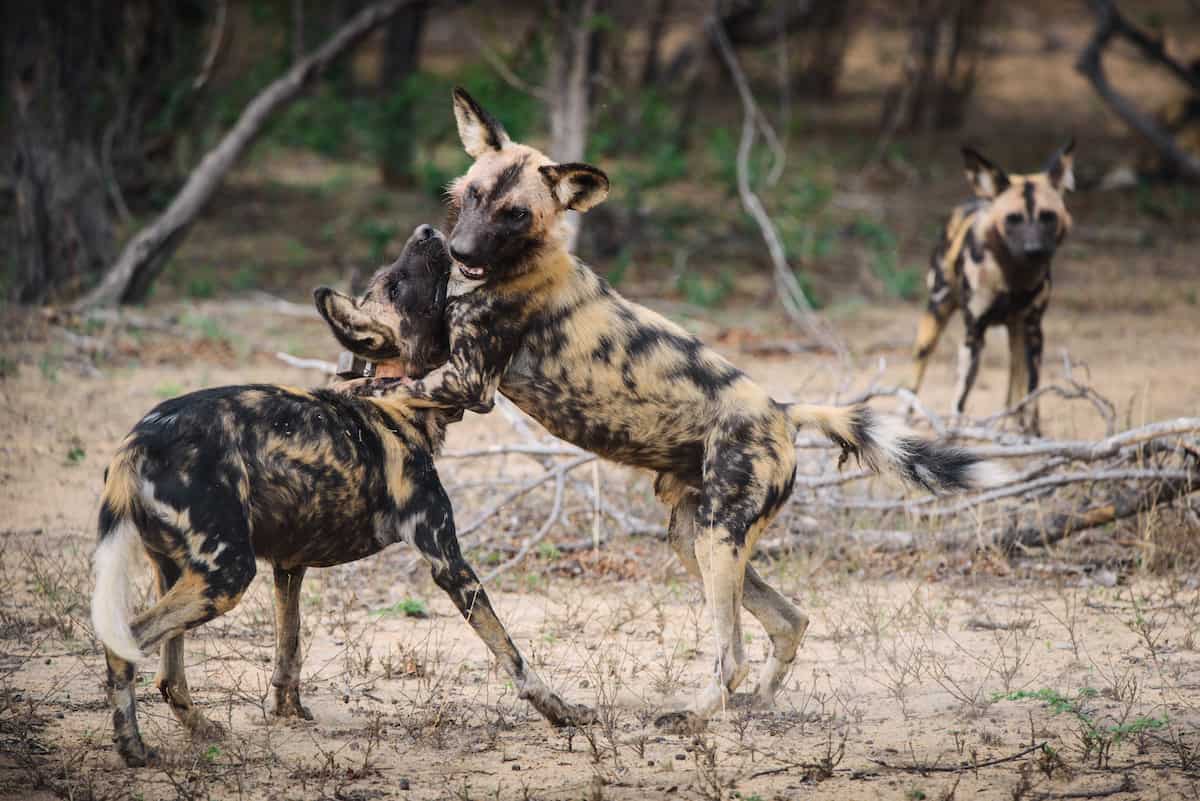 Join our Wildlife Photography & Conservation Volunteer Project and capture images like this yourself!