7 Reasons Why Sri Lanka is a Surprisingly Perfect Destination for Wildlife Photography
Find out how this island's natural features provide a wildlife photographer's paradise
– Text by Fernanda Hurtado Ortiz, images by Lucia Griggi
With renowned safari locations like Kruger National Park, the Masai Mara, the Galapagos Islands, and the Amazon, Sri Lanka – the teardrop shaped island south of India – is breaking out their shadows to prove why it should be your next wildlife photo safari destination.
Photographer Lucia Griggi has spent over a decade of her life practicing travel photography in several destinations including U.K., USA, Italy, Japan, but after traveling to Sri Lanka in 2007 it has become a country very close to her heart, and one that she keeps coming back to for the wildlife, people and culture. As the workshop leader of our Sri Lanka photo safari, Lucia hopes to "share this beautiful and unique place to others to experience, to teach not just abut photography but about travel and the country itself."
Sri Lanka boasts a large range of natural landscapes from soft beaches to lush jungles, incredible wildlife – the main focus of our photography workshop – and welcoming locals. With over 120 species of mammals including the endemic spotted leopard, 171 species of reptiles, 106 species of amphibians, 227 species of birds, and one of the world's largest populations of blue whales and sperm whales, Sri Lanka is truly an wildlife-lover's dream come true and just one of seven reasons why Sri Lanka guarantees a wildlife photo safari dream.
1. A Wealth of National Parks
For measuring just 25,332 square miles, the island nation boats an impressively high rate of endemic species. Including 16% of the fauna and 23% of the flowering plants. In order to balance Sri Lanka's rise in ecotourism, there are now 100 areas of protected land in the country making up 26 National Parks administered by the Department of Wildlife Conservation (INK) and governed by the Fauna and Flora Protection Ordinance. Within these protected parks, activities including hunting, poaching, killing or removing any wildlife if prohibited.
Yala National Park, the location of our wildlife photo safari workshop is well known to have the highest leopard densities in the world while the Udawalawa National Park is prime for observing Asian elephants in the wild.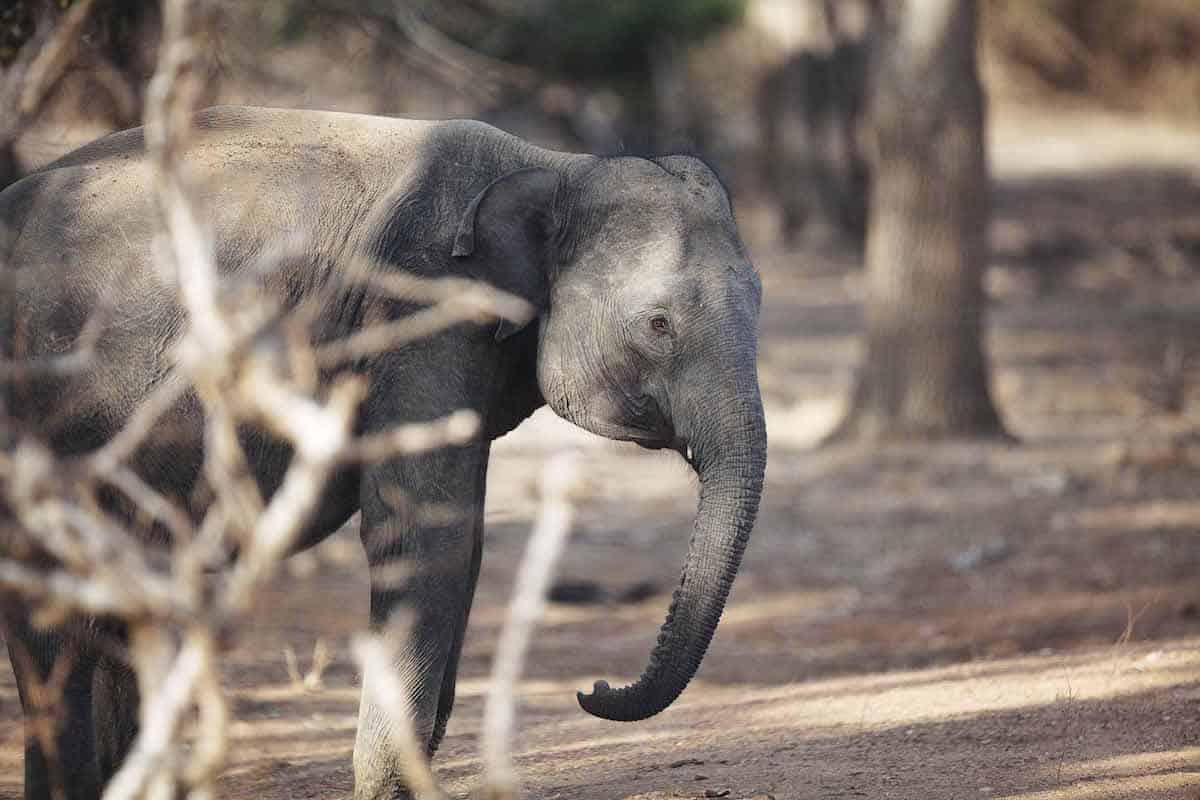 2. Conservation Efforts
With an increase in tourism every year, conservation efforts are essential in order to protect some of Sri Lanka's most secretive and striking inhabitants. Sri Lanka's conservationism roots date back to its 2,230 year old Buddhist civilization leading to an increase in initiatives and organizations campaigning against activities like hunting, poaching and even the tourism-attracting elephants rides, which have been regarded as unethical. As a visitor there are many measures which you can take to be eco-conscious as small as diminishing any extra waste to supporting organizations like the national parks. Lucia makes sure that all the photo exertions she provides during our wildlife photo safari are sustainable and eco-friendly in order to leave only footprints and take only timeless images.
3. Attractions and Activities
Nestled in the aquamarine waters of the Indian Ocean, Sri Lanka offers a wide array of activities. Not to mention the particularly striking scenes that will never cease to amaze. Lucia continues travelling back to photograph the country's special wildlife as well as tea plantations, cultural villages and mountain races. Other than visiting the many national parks offered, Sri Lanka guarantees several religious, cultural and historic landmarks. It also offers several outdoor activities throughout the island, including hiking Adam's Peak, visiting Dambulla cave temple, sightseeing in Colombo, snorkeling and scuba diving in Trincomalee, visiting the giant Buddha at Hike Pidurangala Rock, visiting an elephant sanctuary and learn to make Elephant Poo Paper, and sunbathing on Unawatuna beach. Have a look here for many more facts on Sri Lanka's.
4. Abundance of Flora and Fauna
Sri Lanka has the ultimate wealth of wildlife, from sloth bears to elephants, from crocodiles to the elusive leopard. The country also offers a rich experience for birding enthusiasts; tropical birds of many varieties take up home in the warmth of the Sri Lankan jungle from colder countries. Serving as an orchestra of bird calls, the tropical rainforests hosts an array of plants. Some examples are teak, ebony, bamboo, palm, tree ferns and luscious orchids. Central Sri Lanka's hills are teeming with fragrant tea plantations of compact, dark-leafed camellia thanks to Sri Lanka's favorable climate. Mimicking South Africa's famous big 5, Sri Lanka is also home to their own Big 5 wildlife. These include leopards strutting around confidently, the majestic and symbolic elephant, the shaggy and shuffling sloth bear, and the great Blue Whale and Sperm Whale.
5. Welcoming Atmosphere
Contrary to popular belief, Sri Lanka is a safe and very hospitable destination to visit. According to Lucia: "Through the years the country has experienced many difficulties from conflicts to tsunamis. Many cultures believe that Sri Lanka may not be a safe place to visit. This is misleading as it's one of the safest places."
Between 1983 and 2009, Sri Lanka was riddled with a brutal civil war, causing most tourists to stay away. However, since the war's end, Sri Lanka has been steadily rebuilding its tourism. Travellers are indeed welcomed with open arms and smiles by the locals.
6. Ideal Weather
Sri Lanka's natural gifts of aquamarine seas, sandy beaches, abundant wildlife, cascading waterfalls, emerald hills to its cultural heritage and archeological sites are enjoyed anytime of the year due to its blessed tropical climate. The island's isolation from the mainland, the heavy rainfall of the two diagonally blowing monsoons, and the country's wide range of altitudes have given Sri Lanka a variation in climate and biodiversity normally found only across an entire continent. The temperature is steady throughout the day. Eventually it's possible to encounter wildlife on a daily basis, which is perfect for wildlife photographers and enthusiasts.
7. Support Reconstruction and Development Efforts
Following the 2004 devastating tsunami and then emerging out of internal conflict in 2009, Sri Lanka has been focusing on long-term strategic and structural development efforts as it strives to transition to an upper middle-income country. By traveling to Sri Lanka, tourists have indeed a direct impact on development of the Sri Lankan economy. In fact, tourism plays a significant role in producing employment opportunities and regional development. As the conflict's wounds heal, the government's vision's to make the tourism sector as Sri Lanka's most profitable income-generating source. As a tourist, it's important to support sustainable and eco-friendly tours and accommodations in order to make the most of Sri Lanka's beautiful gifts, while also supporting local industries.