How to make use of old cameras in environmentally-friendly ways
5 Ways to Up-cycle Cameras
No matter what type of technology you're buying, there will almost certainly be a new and improved version of it being widely sold within a matter of years, if not months. The result of this is cellphones, laptops, cameras and more lying around gathering dust in homes all over the world. So let's make use of them so we can reduce our waste and help the environment!
Here are five fun ways to up-cycle cameras.
1. Pendants & Necklaces
Let's get started by recycling an old camera's lens piece!
First things first, carefully open your camera by loosening all of the screws keeping the outer casing locked together. You will likely need a small set of screwdrivers, such as those used on jewelry or eyeglasses. Keep your hands steady and aware, because there are lots of small parts within the inner workings of digital cameras!
Next, you'll move onto the screws connecting the lens to the camera body. After removing all of them, use a pair of tweezers to gently lift the lens and lens mount up and out. Be careful to keep the glass clean and smudge-free.
Now it's time to get creative. Find a picture you want to keep close to your heart (portraits tend to look best), and cut the image to the same size as the lens. Be careful here! You want your cut to fit all the way to the outside of the lens mount (where all of the screws were removed), and not just the glass. Using a hot glue gun, attach your photo to the inside of the lens, leaving your photo amplified within the glass.
Let dry, and you have a personalized pendant!
2. Herb & Succulent Pots
This DIY can also be done with a camera lens- and the result is outrageously cute.
First, attach a lens hood. With the lens standing up vertically, this is essentially the "pot". Use hot glue to attach a small plastic saucer to the glass lens inside the hood. This will help prevent water leaks, since cameras were not made to hold liquid. Next, fill up the hood with nutrient-rich soil, and plant what your heart desires! Herbs work very well, and having your own fresh greens in the kitchen can make a big difference to your cooking. Succulents tend to flourish even better in these lens pots; they require very little care, attention and water.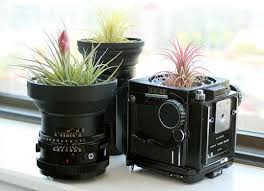 3. Curios / Decor
Let's take it back a few steps and get super basic. Knick-knacks and curios around the house help you define your style— why not get your old cameras to enhance aesthetic? By painting your broken camera a solid color of your choice (stark white oftentimes looks the most striking) you'll have a personal decoration to place on dressers, bookshelves, or cabinets.
Before you start painting, be sure to take care of logistics. First, wipe your entire camera down with wet, soapy water (I know, this makes me cringe a bit too— but if the camera is fully broken, and you are not planning on restoring it to life, there will be no consequences). To get off any stubborn dirt, apply rubbing alcohol using a cotton ball. Next, find some super glue. Any piece of the camera that is movable or adjustable should be glued in place; for example, the lens. Follow your own creativity when it comes to how far out you would like your lens to be positioned, just make sure it's not zoomed all the way into the camera body. It will look far better with more depth.
Now you can get to painting! Depending on the color you choose, you may have to apply up to four or five coats of paint. Once it's dry, you'll have a beautiful curio to display around your home and the office, or to give as a present to a photographer in your life.

4. Photo Display
This project is super easy and allows you to show off not only your favorite pictures, but also
your DIY crafting skills. Start by creating four very small holes in the top of your camera by using a drill (Make sure the drill bit is very skinny- you only need your holes to have a diameter of 3 or 4 centimeters). Next, cut 4 pieces of metal wire of slightly varied length. Create a curl at one end of each section of wire (Your photos will be on display by resting inside the wire spiral). Using a hot glue gun, secure the straight end of each wire into the holes you previously drilled. Let dry, and choose what photos to show off!
5. Vases & Pencil Holders
It's time to get cracking! Literally— to make this next project, you will have to smash and remove the glass out of an old lens. Wearing gloves, break the glass using a hammer (this may take more force than you would think, and there can be more than just one layer of glass— so be careful!) and remove the pieces using pliers.
Next, fit a piece of foam into your hollowed out lens. Using super glue, secure the foam at the bottom of the cylinder.
Voila! You can now use your craft to hold pens and pencils in an office or workspace, or you can arrange a pretty bouquet of flowers to brighten the room.
Special thanks to the following blogs for ideas & inspiration:
You may also be interested in checking out our photography workshops. Here are some of them: